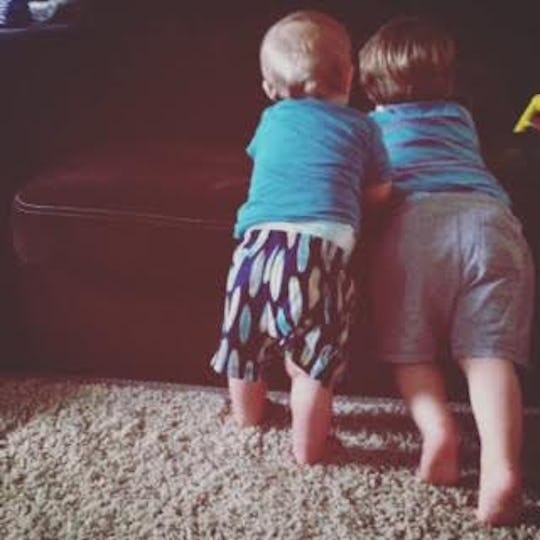 Courtesy of Hannah Westmoreland Murphy
9 Times When Having Two Kids Under The Age Of Two Is The Greatest Struggle That Has Ever Struggled
Becoming a mother for the first time is an adjustment period, to say the least. It can take months, even years, before new moms begin to feel like themselves again. Then again, there are those of us that have lost all concept of what feeling like ourselves even means; the ones that decided to postpone sanity in order to experience some version of cruel and unusual punishment; the ones with two children under two, which is the greatest struggle to ever struggle. You know, the ones that, clearly, lost their reproductive minds.
Having two kids is surprisingly different than having one, especially if they're close in age. In fact, it makes a person reconsider the whole, "one and done" concept. Sure, spreading out the age of our children would have been convenient and fiscally responsible; it would have allotted our bodies enough time to recover from the first pregnancy; it would have given us time to wrangle our hormones into a somewhat sane submission.
But who needs sanity when we have two precious, screaming, needy, dependent, adorable dictators to monitor 24/7? Who needs sleep when they can experience the sort of high that only months of sleep deprivation can (and will) provide? Ugh, who am I kidding; having two kids under the age of two is f'ing hard sometimes I seriously question what in the hell I was thinking. Oh, and by "sometimes," I mean all the damn time. It is perhaps the greatest struggle that has ever struggled in the history of struggling, and it's one that I took on willingly because I love my babies and I am a masochist and, well, I love my babies.
If you're a mother of two children under two, you already know the struggle because you live the struggle and I tip my figurative cap to you in solidarity, sweet friend. If you're not, well, here are nine moments that only mothers of two under two could ever understand: