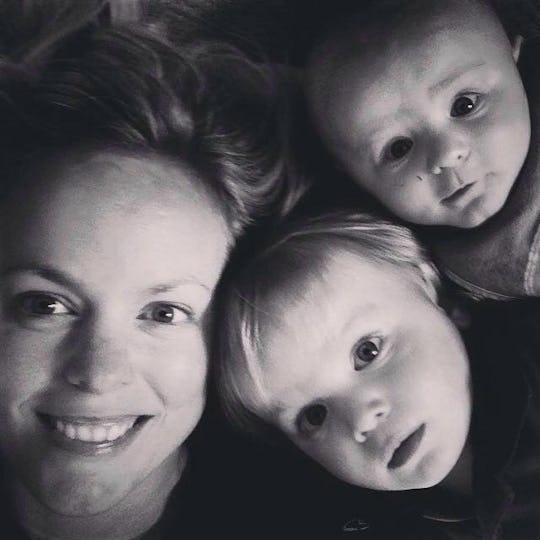 Courtesy of Hannah Westmoreland Murphy
11 Things Parents With Kids Close In Age Are Tired Of Hearing
Since the day I found out I was pregnant with my second son, I have been subjected to more than my fair share of assuming stares and prying questions. My sons are only 15 months apart in age and, yes, it comes with its challenges, but it's far from the presumed "doom" people make it out, especially after they've done the math. Typically, once they figure it out, I get dropped jaws and wide eyes, followed by the things every mom with kids close in age is tired of hearing. I'm talking rude comments, suggestive and intrusive questions, and resulting prayers that are offered to myself and my family, as if we're one toddler tantrum or crying baby away from losing our minds.
Don't get me wrong, having two kids under two was a huge struggle at times, but the struggle isn't something that's exclusive to parents with kids close in age. I mean, being a parent in general is a universal struggle. I'll admit that when I found out I was pregnant with my second son (and when my first was only seven months old) I wasn't exactly elated. Far from it, actually. In fact, I cried for weeks. The unique and chaotic circumstances of my family's life, at that time, made bringing another baby into the world, well, terrifying. I still feel guilty about it, because I know there are so many couples who struggle with infertility, or who have had miscarriages, that would have done anything for that positive pregnancy test, but we were struggling hard. Of course, one woman's struggles do not negate my own but, still, perspective is easily lost when you're a mother and pregnant and hormonal and exhausted.
We got through that hard time, though, and have come out on the other side with two spunky, messy, happy, and healthy little boys. A day in our house is nothing short of entertaining, to be sure, but despite being stressed and exhausted, we love every messy minute. If we can make it through the struggle and the chaos of having our kids so close together, and realize that having kids is just hard all the way around, you would think that perfect strangers in the grocery store could, too, right? Wrong. Everyone has something to say about my children's very minimal age difference and I, personally, could happily spend the rest of my life without responding to the following 11 questions and comments about it.