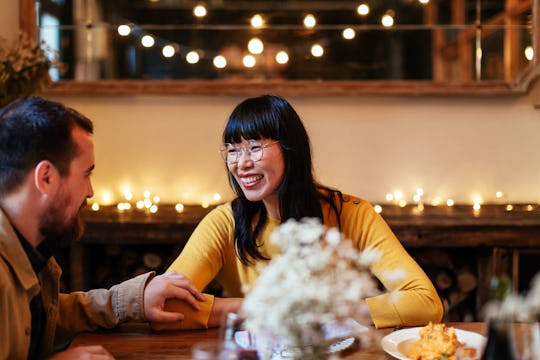 Bonninstudio/Stocksy
7 Relationship Mistakes People Make The First Year That Can Mean They're The One
Not over-analyzing hiccups in your relationship is a struggle. Will that fight about the dishwasher be your downfall? Should you end things because they forgot your birthday? Instead of fixating on conflicts with your significant other, consider the mistakes your partner makes in year one that could actually indicate that you two are right for each other after all.
Hear me out. You might imagine the first year of a relationship as the "honeymoon phase," but 365 days is a long time. I'd be shocked if a single conflict didn't arise in that time period between you and your partner. As Shula Melamed, MA, MPH, a relationship and wellness coach, explains to Romper via email, "It is completely normal and natural for two people not to see eye to eye on everything." But she continued to say that "the most important thing is to fight fair so that there is not too much emotional messiness to clean up after" an argument, meaning you shouldn't just scream at your partner for no reason. Addressing issues with effective communication is the key. Indeed, a study conducted by the Guardian found that "couples who argue effectively are 10 times more likely to have a happy relationship," demonstrating the importance of effective communication about difficult topics in romantic relationships.
Plus, you and your partner are still getting used to one another during your first trip around the sun, so there are bound to be some imperfect moments. Some mistakes are better than others, though, so read on for the slip-ups that indicate your partner is in it for the long haul.