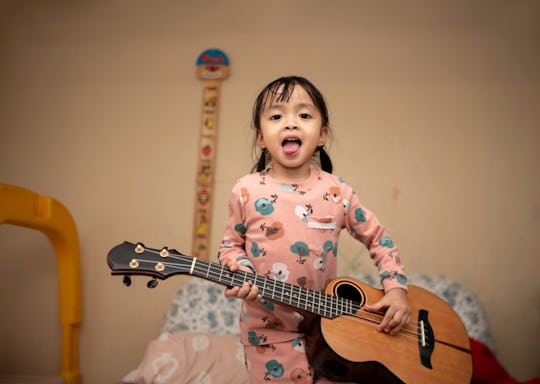 Shutterstock
Kids Will Love These 7 Rock & Roll Songs As Much As Their Parents
Remember when you could listen to your favorite songs as loud as you wanted without having to worry about words that maybe weren't so appropriate for little ears? Before you were forced to play "Baby Shark" on repeat until you genuinely wondered if you would ever get it out of your head? Don't dismay, because there are rock 'n' roll songs that kids love as much as their parents do, and thanks to the oh-so-popular Rock and Roll Playhouse, you can now create a playlist of tunes you and your kid can happily rock out to.
The Rock and Roll Playhouse is a concert series that travels around the country and, according to their executive director, Amy Striem, "provides ways for parents to connect with their children through the shared excitement of live music. Combining elements of education, with music from iconic artists in the rock and roll canon, The Rock and Roll Playhouse offers an intergenerational experience by creating a space for parents to enjoy the music they grew up with while introducing their children to live music in a safe, concert setting." In other words, this is a children's concert that will leave parents wanting more, and possibly embarrassing their children with their singing and dance moves. #sorrynotsorry.
This Sunday the band members of The Rock and Roll playhouse will take the stage at Camp Romper, a Brooklyn event where families will be experiencing a day full of music, arts and crafts, yoga, food, and more. If you're not in the NYC area, you can check out to their events page to see if they're playing at a venue near you in the near future. In the meantime, here's a list of hits, courtesy of the band, that are tried and true crowd-pleasers. These seven songs are the perfect palette cleanser after you've been forced to listen to one too many children's songs, and/or you just cannot listen to "Old Town Road" one. more. time.