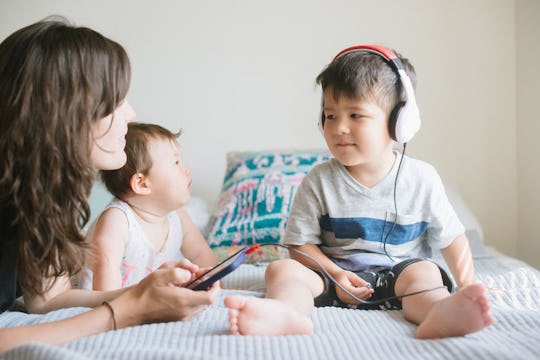 Lauren Naefe/Stocksy
You'll Actually Like These 12 Kid-Appropriate Spotify Playlists
Music is like a universal language that has the ability to connect people from all backgrounds and of all ages. But when you're in the car with your kids, nothing is more frustrating than turning on what you think is going to be a family-friendly station and ending up listening to lyrics that are questionable at best and vulgar at worst. Ugh, the struggle is real sometimes. That's where having a kid-appropriate Spotify music playlist comes in handy.
When your 4-year-old is demanding the Trolls soundtrack and your precious preteen only wants to listen to JoJo Siwa and BTS bops, you might find your head spinning just a bit from having to explain over and over again why it is imperative to take turns when selecting songs to play if the whole family is listening along. On a road trip or even just a long car ride, finding music that everyone can enjoy together is an absolute must to keep the fighting and eye rolling to a minimum.
Before you set out on any in-car journeys with your kids, you can queue up these kid-appropriate Spotify music playlists to make sure that everyone arrives at your destination with a smile on their face (and your sanity intact). They're also great to jam at home or in your backyard any time to get everyone in your house moving and grooving together.