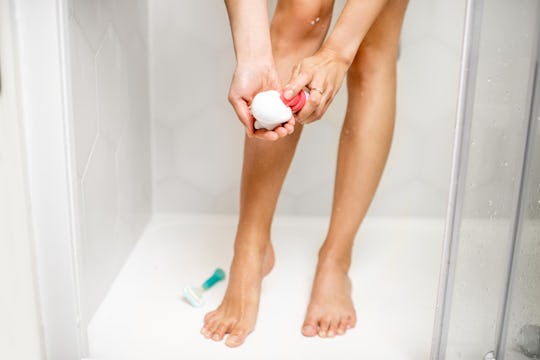 Shutterstock
7 Surprising Benefits Of Not Shaving Down There That'll Make You Rethink Your Razor
Body hair removal is a common practice, especially for women. Most people shave with the cosmetic aesthetic in mind, as general upkeep or in preparation for a beach trip or intimacy. But there are some surprising benefits of not shaving your pubic hair that might make you rethink your razor habits.
Shaving as we know it began in the early 1900s when it became common for women to shave their armpits, though women have been removing hair from their bodies since the time of cavemen according to Mic. Shaving has only become more prevalent with time, and removing pubic hair specifically became a widespread practice in the last forty years or so. But it's become mega popular since then, with a study published in Jama Dermatology from 2016 finding that almost 84 percent of women groom their pubic hair to some degree.
But despite the high number of people who shave, there are actually a lot of benefits to not shaving down there, which makes sense. Your body grows that hair for a reason, so naturally there are reasons it would be good for you to have it. Of course, shaving or waxing isn't dangerous to your health, and it's up to you and you alone on what you want to do with your pubic hair. But finding out the benefits of keeping it might make you rethink your weekly shave. Read on to find out more.