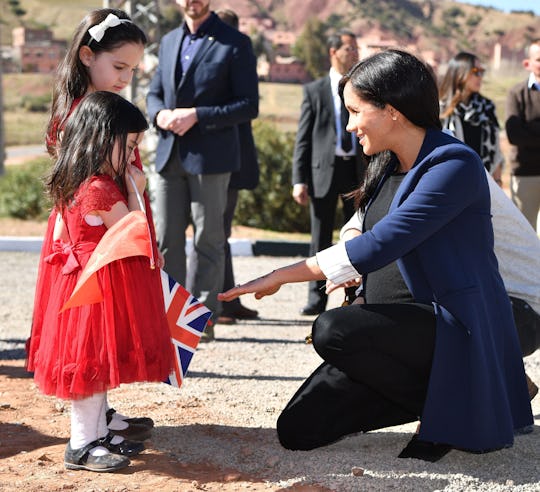 Pool/Getty Images Entertainment/Getty Images
7 Adorable Pieces Of Evidence That Prove Meghan Markle Will Be The Best Mom
Every time Meghan Markle shows up around kids, the world breathes a collective "aww." The Duchess of Sussex just seems so comfortable and relaxed that it's easy to forget she's a celebrity and, of course, a member of the royal family. For just a few examples, here are seven sweet Meghan Markle moments with kids that prove she's going to be the greatest mom to her bundle of joy. Not that she'll be alone in that, Prince Harry holds his own just fine when it comes to his interactions with kids, too.
Markle is due to give birth sometime in late April or early, according to Cosmopolitan. The sex of Baby Sussex hasn't been revealed yet — the couple has said they don't know, according to Marie Claire — but British oddsmakers are still fielding bets about what it's going to be. And that's not all people are curious about; according to TODAY, there was such a flurry of betting on the odds that Markle is expecting twins that the option was eventually called off entirely.
Whether she and Prince Harry are expecting a boy or a girl, one or two, these are just a few moments that let us know that Markle is going to be a great mom — in fact, she already is.