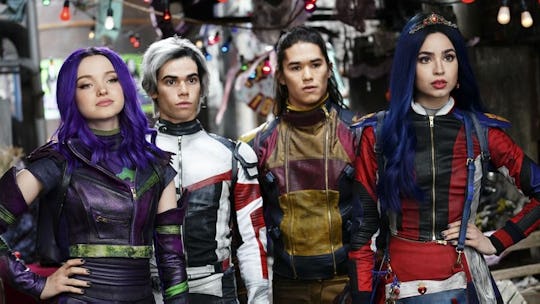 Disney Channel/David Bukach
It's Good To Be Bad In These 'Descendants' Halloween Costumes
My daughter is 8 years old and that means that I can sing all of the songs from The Descendants, and I've never even seen the bloody thing. I've just heard it. Often. Given the movie's popularity, it's no wonder that Descendants Halloween costumes are at the top of everyone's lists this year, and let me tell you, there are some really great options available at every price range.
Being a Disney film trilogy, you know that the Disney Store will be stocking all of the most popular characters' costumes in their retail outlets and online, but plenty of other stores will be stocking them as well. Some of the most creative takes on the costumes come from handmade juggernaut Etsy. Whether you want it in a tutu form or as a onesie, they've got it. However, places like Target and Amazon are also bringing the heat this year, making your ability to bedeck your babies in fancy, magical, god-themed frocks easier than ever. You can even get customized, Descendants-themed trick or treat bags to take your children through the neighborhood as they sing "I always thought that I'd be the queen... and there's no in between... "
It's stuck in your head now, isn't it? You know the remedy for that? Online shopping.