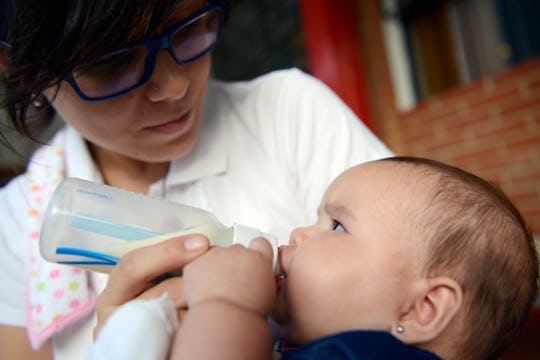 AFP/AFP/Getty Images
7 Things Every Woman Who Hates Breastfeeding Wants You To Know
Ever since the "normalize breastfeeding" movement began, mothers all over the world have taken to social media, proudly sharing photos of themselves breastfeeding their children in an attempt to de-sexualize a normal, healthy act. The movement has the best of intentions and I, for one, admire the bravery of so many women, especially when they know that they'll likely be shamed for breastfeeding in public. Still, a (sadly) negative reaction to the movement has been the shame formula feeding mothers experience. While there are things mothers who love breastfeeding want people to know, there are things women who hate breastfeeding want you to know, too, and those things are worth just as much attention. While there are women who are unable to breastfeed, there are also women, like myself, who simply hate breastfeeding. My disdain for breastfeeding has forced me to deal with judgement and shame, much like the women who love breastfeeding and choose to breastfeed in public.
The benefits of breastfeeding are undeniable, but formula feeding your child doesn't make you a bad mom. It sometimes seems like, in today's judgmental world, we're damned if we do and we're damned if we don't. If we breastfeed publicly, we're told to cover up, but if we don't breastfeed at all, we're judged for giving our children what some assume is a sub par product. The fact that any mother has to justify the means by which she feeds her child, according to her own unique situation, is beyond baffling to me, but here we are.
People gets things wrong about breastfeeding moms all the time, but since I'm not a member of that demographic, I'd like to point out a few misconceptions about moms who hated breastfeeding all together. I could go on for days, but for the sake of your hungry child, I've narrowed my list down to seven things that moms who hate breastfeeding want you (and everyone else) to know.