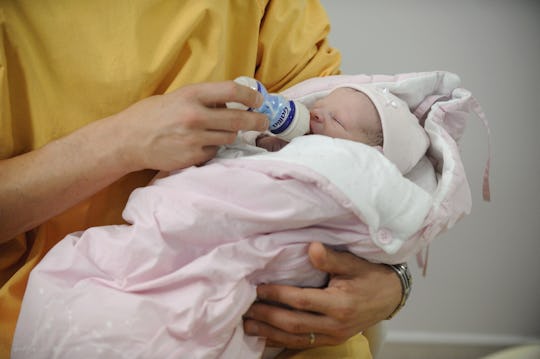 JEAN-SEBASTIEN EVRARD/AFP/Getty Images
8 Reasons Why Formula Feeding Doesn't Make You A Bad Mom
Too often women who don't breastfeed, whether by choice or because they physically and emotionally can't, are pegged as being less committed to motherhood than women who do and can breastfeed their children. I know this personally because I am one of those women. I was made to feel less than because I formula fed my kids, but I can tell you with absolute certainty that formula feeding doesn't make you a bad mom. It's not indicitive of how you'll parent in the future or how much you love your kid or how much you'll sacrifice to make sure your kid is happy and healthy.
Shortly after my first son was born, I started to show signs of postpartum depression. At first I ignored them, thinking that I could just equate my emotions to being exhausted and being stressed and, well, being a new parent. I continued to breastfeed him until he was eight weeks old, but it was a major struggle. It became harder and harder for me to keep up with my son's feedings, and the more he wanted to eat, the more frustrated and emotional I became. At a certain point, I realized that my feelings weren't just a result of the baby blues or exhaustion; they were darker and more extreme than just fleeting moments of sadness. I knew that I wasn't myself, so I made an appointment to see me doctor.
During my visit, my doctor told me that she believed I was suffering from postpartum depression, and she recommended that I start taking anti-depressants. I was still breastfeeding at the time, but she told me that my baby needed a mother that felt okay more than he needed to be breastfed. I took her advice and started introducing my son to formula. Just quitting breastfeeding alone allowed me to start feeling like myself again, and a few weeks later I felt like I was finally able to enjoy motherhood.
Although I felt the inevitable guilt that our society tells us we should feel if we don't give our children what's "best," that guilt paled in comparison to the weight I felt lifted from my shoulders once I started feeding my son formula. I realized that what someone else tells me is the "best" way to be a mother doesn't matter; it's doing what I feel is best for my family that makes me a good mom, and formula feeding doesn't make me, or anyone else for that matter, any less of a mother.