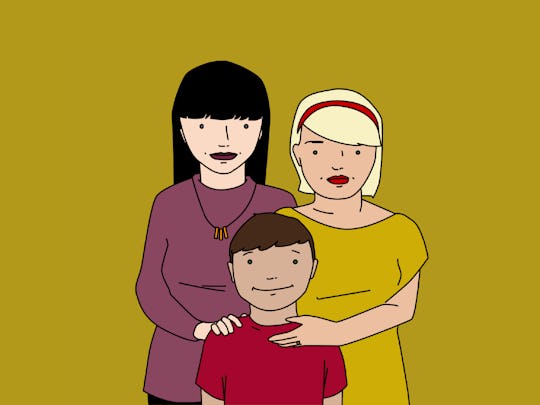 Allison Gore/Romper
7 Things Feminist Moms Refuse To Say To Their Kids About Gender
There are multiple ways that feminist mothers parent differently than other mothers. From teaching body positivity to deciding to be a sex-positive parent, feminist mothers are altering what many would consider "normal parenting tactics" for the benefit of their children and society in general. How feminist mothers talk about gender to their peers, their children, and even themselves, is another way that they're changing parental discourse, and raising a future generation that will be as diverse as it is inclusive.
While many of us grew up in a time when boys were supposed to "act like boys" and girls were supposed to "act like girls" and transgender individuals were shunned and ridiculed instead of understood and accepted, we're working tirelessly to make sure that our children, don't. If our sons want to wear pink, we emphatically let them. If our daughters want to become scientists, we support their endeavors instead of trying to convince them to simply get married and have children. We celebrate when our sons wear dresses to school and we compliment our daughters on more than just their appearance.
Feminist mothers are not tied down to the stereotypes that society places on gender, and we certainly don't believe that gender is a binary that cannot be broken. So, with that in mind, here are 7 things feminist mothers refuse to say to their kids about gender, because times are changing, and we're proud to be facilitating it.