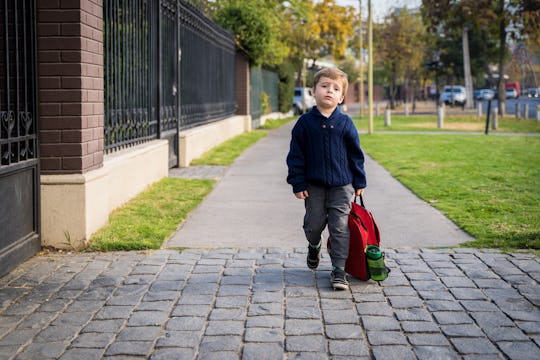 Shutterstock
Here Are 7 Things Schools Do To Make The End-Of-Summer Transition Easier
Entering a new classroom for the first time is a big deal for most kids, and it can be a nerve-wracking experience. Who will sit by them in the classroom, and will they get lost navigating the school building? Fortunately, there's a lot that educators can do to help kids ease into the new school year. Hopefully these strategies will make your kid feel right at home in no time.
By using technology, social mixers, and even storytelling, teachers and administrators alike can help kids make the transition out of summer. When your kid has a clear sense of what the year ahead will bring, as well as a couple of buddies in the classroom already, then the whole experience should be much less scary. Of course those first-day nerves are perfectly normal and even expected, but schools now have so many ways to help kids adjust.
To aid in their efforts, parents can also do a lot to help prepare their kids for school. Attending an open house event, and remaining positive when talking about school, are two ways parents can help out. When parents and educators work together, your kid's transition back to school can be a total breeze.