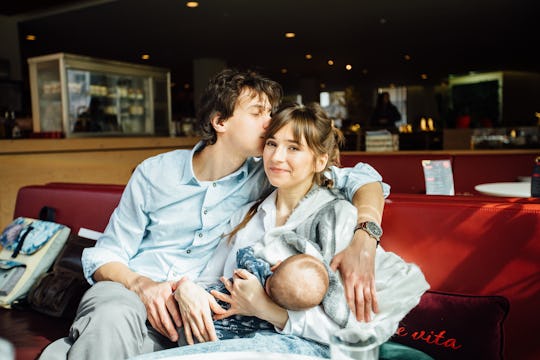 Iryna Inshyna/Shutterstock
7 Things That'll Never Come Out Of A Loving Partner's Mouth When You're Breastfeeding
I don't get warm and fuzzy feelings when I think back on my time breastfeeding. It was hard. Like, really hard. And my postpartum depression (PPD) made the hard even harder. Without the support of my partner, I know I wouldn't have made it through. Not only was he by my side during every agonizing feeding session, but he always knew the right thing to say at the exact time I needed to hear him say it. There are definitely things that'll never come out of a loving partner's mouth when you're breastfeeding, which is just one of the many reasons why I know my husband is, indeed, a loving partner. In a stressful time "your person" should be a source of comfort, and that's exactly what my husband was for me.
My first time breastfeeding in my hospital room was nothing short of a disaster. I'd researched as much as one possible could about nursing and what to expect, but when my brand new baby was laid on my chest I realized how little I truly knew about breastfeeding. My daughter cried and I cried but, thankfully, my partner didn't. He encouraged me to keep trying and promised to help however he could. As a new mom it was the first time I was challenged in a way I couldn't have prepared for (and it wouldn't be the last) so it meant the world that my partner was right there with me.
My partner was everything a new mom like me needed. He didn't press me to keep breastfeeding when I knew I couldn't, and he wasn't disappointed when I finally decided to give up nursing. Ultimately, he became the partner and father I knew he would be. So with that in mind, and because every new mom needs support, here are some things that would never, ever, come out of a loving partner's mouth when you're doing your damnedest to care for your baby.