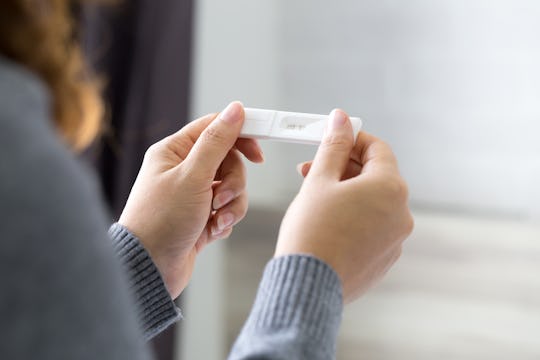 Narong Jongsirikul/Fotolia
7 Thoughts Every Woman Who's Had A Miscarriage Thinks When She's Pregnant... Again
My reproductive history is a difficult one. I have polycystic ovarian syndrome (PCOS) and a tilted uterus. My periods are painful, sex hurts, and my first pregnancy, labor, and delivery were complicated. I suffered two miscarriages trying to get pregnant again, and started to think my body was incapable of carrying another viable embryo to term. In other words, when I took that pregnancy test in 2011 I expected it to be negative. It wasn't. Before I knew it I was bombarded by the thoughts every woman who's had a miscarriage thinks when she finds out she's pregnant... again.
When my doctor confirmed that, yes, I was pregnant again, I was shocked. But that shock quickly turned to worry, since my pregnancy was labeled a "threatened abortion" due to my previous miscarriages. My partner and I had been trying for another child for years, had suffered multiple losses, and while we were ready for another baby, we weren't ready for another heartbreak. We had been discussing fertility treatment options before I took that test, I was still recovering from a deep depression, and I had lost all faith that I would be able to expand my family. In other words, while that positive pregnancy test was a dream come true, that dream came with a side dish of fear, uncertainty, and self-doubt.
Luckily, after nine difficult months my son was born on my daughter's fifth birthday. Finally I was able to give my baby girl a little brother and best friend for life. But make no mistake, the pregnancy losses I endured prior to the birth of my son will always be with me. And when I finally got pregnant again, I couldn't help but think about those two miscarriages and how they were going to impact the pregnancy I hoped to carry to term.