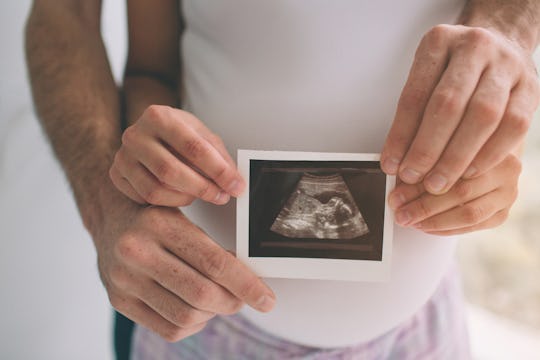 estradaanton/Fotolia
I Told Everyone I Was Pregnant Right Away, But I Was Considering Abortion
When and how to announce a pregnancy isn't as straightforward as one might think. Some expecting parents want to share their news as soon as possible. Others decide to wait awhile before they share the news, and for a variety of valid reasons. When I was first trying to conceive, I definitely planned to wait until the second trimester before I announced my pregnancy. Then I learned the only universal truth about pregnancy — nothing goes as planned. Despite my initial plans, I told everyone I was pregnant right away, and I totally wish I hadn't. Because, at the time, I was also contemplating abortion.
To say that my first pregnancy was planned is kind of an understatement. My then-husband and I wanted to be married for at least five years before we had our first child, and, as the time, everything was going according to our plan. We got married, bought a house, and purchased a hybrid car. I had earned a promotion at work, and we were actually able to save some money for the first time in our lives. We felt like real adults, and, as a result of all that adultness, we felt like we were absolutely ready to be parents. Turns out, no one is actually ready to be parents. Not entirely, anyway. But that was a lesson I had yet to learn.
I read everything I could get my hands on about pregnancy and birth, because I wanted to do everything right. Since most of my sources suggested waiting until you reach the second trimester to tell people you're pregnant, that's what I planned to do. I got off birth control, started tracking my cycle, and we started having sex on the most optimal schedule for conceiving quickly, according to my research.
I ended up telling people I was pregnant so I didn't have to make this decision alone.
Then, despite all of my planning, my life fell apart. I found out that my husband had been cheating on me for pretty much our entire "perfect" marriage. I was devastated and ashamed and left feeling as though I had been living a lie; a lie perpetuated by a man I had willingly married. A few days later, I took a pregnancy test and saw that second line. The test was positive, I was pregnant, and I had no idea what I was going to do or who I should tell anyone in my life what was going on.
Honestly, my first instinct was to not tell anyone — not even my husband — about my pregnancy, until I could figure out how to move forward. I was so lost, though, and none of my options seemed particularly positive. I didn't know if I wanted to raise a family with someone who had cheated on me, if I wanted to become a single mom right out of the gate, or if the right thing to do was have an abortion. I ended up telling people I was pregnant so I didn't have to make this decision alone.
I honestly wish I had waited, though, because everyone I told had an opinion about my pregnancy. At the time I worked for an abortion provider, so I knew I had a support system in place if I decided to terminate my pregnancy. At the same time, most of my co-workers knew I was trying to conceive, so it felt weird to talk about terminating a planned pregnancy, and I am a little ashamed to say that the idea of getting an abortion at a clinic where people knew me was humiliating. Even though my pregnancy and my marriage were none of their business, I knew people would talk.
He told me he would change and that our family would be "perfect" again. Deep down, I knew it wasn't true.
I only told a few people about my pregnancy and my husband's infidelity. Every single person I told thought we needed to stay together, no matter what, because I was pregnant. I felt pressured to stay with him and continue my pregnancy, by both other people and didn't really have a stake in the outcome, and by my husband. He told me he would change and that our family would be "perfect" again. Deep down, I knew it wasn't true. But as a woman who had just found out she was pregnant, and as a woman who wanted a happy family, I so desperately wanted it to be true. So I believed him.
Those who didn't know about his cheating thought our marriage was going well, and that my pregnancy was planned and wanted. People said congratulations and were so happy about it, while I was silently freaking out. So, I put on a smile and joked about morning sickness, and pregnancy exhaustion, when I was in public and on social media, and told no one except my therapist that I was considering having an abortion.
In the end, telling people about my pregnancy right away was both a blessing and a curse.
I ultimately decided to continue my pregnancy. It was my choice, and I don't regret it. Soon after, I told everyone I was pregnant. I wasn't really ready, but in a way it helped me feel better about my choice; to be able to celebrate my pregnancy instead dreading it. I also stayed with my husband, for a while, at least. But he didn't change, and I in so many ways for so many reasons I wish I had left him before our daughter was born. While our baby was perfect, having a perfect child definitely didn't fix our marriage.
In the end, telling people about my pregnancy right away was both a blessing and a curse. When I got pregnant again, I decided to wait to tell everyone until I was ready, for so many reasons. As for whether or not I think you should wait or tell people right away, honestly your mileage may vary depending on your situation, your needs, and your pregnancy. Deciding whether or not to share your pregnancy with the world is personal, and it's not as simple as waiting until a certain date. You are the expert, and you really are the only person who can make choices about your pregnancy.
If you are considering having an abortion, you don't have do it alone, you can call All Options' free talkline at 1-888-493-0092, for nonjudgmental, confidential support from trained peer counselors or visit their website for abortion care information and resources.