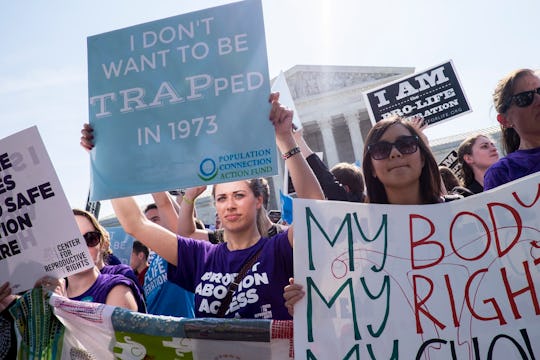 Pete Marovich/Getty Images News/Getty Images
7 Moms On Why They Had An Abortion
There's a strange misconception that most abortions are had by young, "promiscuous" women, women who cheat on their spouses, or uneducated women who are somehow "ignorant" and "irresponsible." That common misconception, of course, is false. Abortions are had by young women, older women, white women, women of color, educated and uneducated women, rich and poor women, able-bodied and disabled women, by those who do not identify with motherhood, by women who wish to remain child-free, and even by mothers. That's why I spoke with a number of moms on why they had an abortion, either before or after they became mothers.
Full disclosure: I had an abortion, and it was after I became a mother. I'd lost my first baby to preterm labor and premature birth at just 22 weeks. The following year, I became pregnant again and endured an incredibly difficult and high-risk pregnancy. It took a major toll on my physical and mental health. Once my son was born, he had to stay in the NICU for two long and difficult months. So, when I got pregnant again the following year, I decided it was not the right time. I wouldn't be able to endure it mentally or emotionally, and there was no guarantee that my pregnancy would even make it to term.
Not wanting to risk another loss or another sick child, I knew that termination was the best option. But these were just my personal reasons. As evidenced by the mothers below, every person — whether they've procreated or not — has different and valid reasons for ending an unwanted pregnancy.