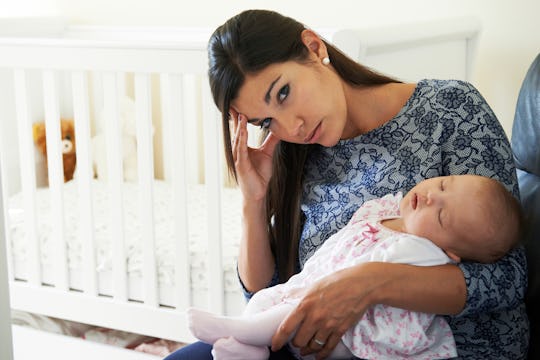 highwaystarz/Fotolia
7 Vicious Things Every New Mom Actually Wants To Say When Someone Wakes The Baby
You don't want to mess with a new mom, especially once she's established a routine. If she has a feeding schedule, don't interrupt it. If she's struggling to adjust to postpartum life, offer to help without intruding. And no matter what happens, don't you ever — ever — wake her sleeping infant. Doing so is like declaring war and she won't be too exhausted to meet you in the trenches. There are some vicious things every new mom wants to say when some dope wakes her baby, and I'm not sure there's a single human being on the planet could handle it all.
I remember my early days as a new mom, desperate to help my daughter sleep for any length of time and by any means necessary. Rock her for hours on end if it means 20 minutes of silent bliss? You got it. Walk around my living room in a circle, dong that "mom bop" that lulls babies to sleep, for maybe an hour nap? Absolutely. Sometimes, through the desperation and fatigue, I said some wacky things to anyone who dared disrupt my process. And honestly, not much has changed since. I will do anything to get my kids to sleep. Their sleep means I get to sleep, and that's imperative for the wellbeing of my entire family as a whole. Mama needs her rest, people.
The times an unexpected knock at the door surprised my infant, or a hyper cat knocked something over something breakable, were awful. Not only did it interrupt my baby's sleep, but made me feel like everything I did to get her to rest was worthless. I'd have to start all over again and when you're as tired I was, that feels impossible. Here are some thoughts I, and every new mom, have when someone wakes the baby. So, you know, don't.