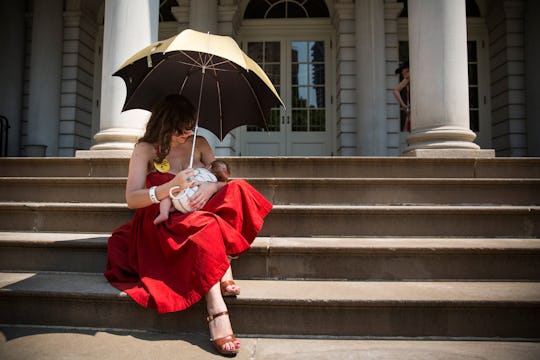 Andrew Burton/Getty Images News/Getty Images
7 Ways Breastfeeding Makes You More Body Positive
When I made the choice (and was successfully able) to breastfeed my son, I knew what he was going to get out of the deal. I knew that breastmilk was very beneficial to and for him and that he would be receiving necessary antibodies and that we would be given some exclusive opportunities to bond. I didn't know, however, what breastfeeding would be giving me. I learned so much about myself, about parenting, and about the unavoidable importance of self care when I was breastfeeding my son. I also learned just how important it is to be, and remain, body positive.
I can't say that I was relatively kind to myself or my body before I became pregnant and brought another human being into the world. I, sadly, bought into society's condescending and unhealthy rhetoric concerning women's bodies. I thought I had to be a certain size if I was to be attractive and I had to shrink myself as to not upset the men I shared spaces with and I had to discipline myself enough to not eat too much or weigh too much or simply be too much. It was difficult to continue to adhere to that way of thinking after I had my son, however, as I realized that my body is incredible at any size, capable of doing marvelous, miraculous things and no amount of weight or pant size or space I take up would ever change that. My body could sustain human life (I mean, I could feed my kid by simply showing up and being alive) and that body, my body, was worthy of love and admiration for that reason and many, many others. I couldn't hate my body, because my body was doing some downright amazing things.
Which is why breastfeeding not only provides sustenance for another human life, breastfeeding can also teach you how to be more body positive. Just add it to another list of things your amazing body can do.