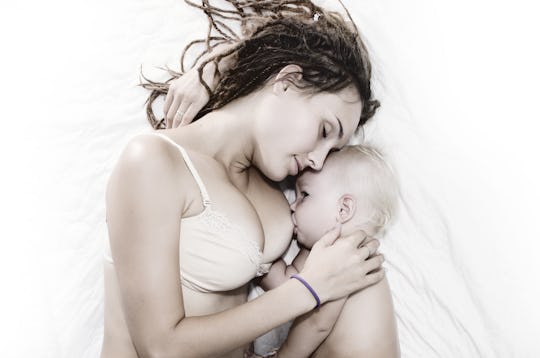 Vasilchenko Nikita/Shutterstock
7 Ways Dads Can & Should Help With Breastsleeping
Breastsleeping sounds like a predominantly "mom" issue — you need boobs and you need to be able to feed your baby throughout the night with those boobs for it to work. But there are actually a few ways dads can and should help with breastsleeping, just like any other parenting choice.
Breastsleeping is supposedly safer for babies, guarantees more sleep for both moms and little ones, and is actually your natural instinct as a mom. But that doesn't mean it's something you can do without your partner's support and help. Like any parenting decision you make, both you and your baby's father should be on board with the idea, committed to it, and eager to make it work. But a lot of parents still struggle with how dads can "help" and be more involved in certain situations other than agreeing it's a good idea.
Breastsleeping requires bed-sharing, so it's imperative that your SO get on board if they plan to sleep in the same bed as you and your baby. There are seven ways dads can and should help with breastsleeping and all seven can make them feel just as included and as important as you in the entire process. Plus, when your partner is putting in the work and helping you, it can make you feel even more confident and secure as a parent.