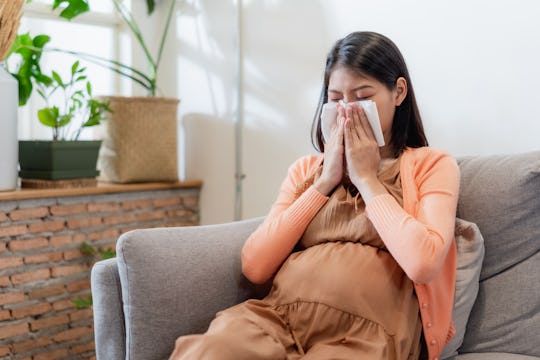 Shutterstock
Here Are 7 Ways To Boost Your Immune System & Stay Well During Pregnancy
It's never fun to get sick, but if there's ever a time you really want to avoid illness, it's during pregnancy. Honestly, your body just has enough going on already. With this in mind, there are some simple ways to boost your immune system when pregnant, because you totally don't want to risk getting a cold right now. Help your body fight off infections, because you and your baby already have enough to do.
First, though, what is the immune system anyway? The body's way of providing defense against infection, the immune system refers to all the cells and organs that work together to help keep the body healthy, according to KidsHealth. This includes everything from bacteria-fighting white blood cells to target-destroying T cells. (There's always a lot of activity going on at the cellular level in your body, in other words.) Even major organs, including the skin itself, is a part of the immune system, according to the National Institute of Allergy and Infectious Diseases. Basically, a portion of your body is working limit or prevent infection at all times, and all together this is the immune system.
Pregnancy, however, changes the immune system, which has to allow the baby to safely grow and develop, according to Healthline. (Otherwise, your immune system might see the growing baby as an "invader," so this is a good thing.) Unfortunately, these changes can also make you more susceptible to sickness. "The alterations in the immune system result in increased susceptibility to certain viral, bacterial and parasitic infections," said Dr. James Betoni, board-certified expert in high-risk maternal fetal medicine and OBGYN, in Family Education. Because you're more likely to get certain sicknesses while pregnant, it's especially important to help your immune system stay in tip-top shape.