7 Ways To Get Your Kid Obsessed With 'Harry Potter' So You Can Enjoy It Together
Share
When you're obsessed with Harry Potter — like dress up as your favorite character just for the heck of it obsessed — passing on your passion to your littles only seems natural. Getting your kid obsessed with Harry Potter may be easier said than done though. The tricky part is introducing it in the right way. You wouldn't want your kids to think you were a crazy fangirl or anything, so subtlety may be the way to go. But if you can't hold your Harry Potter love back any longer, there's nothing wrong with letting loose and showing your kids what it means to be obsessed with the wizarding world.
If you're out of fresh ideas for getting them hooked on the series that will forever change their lives, look no further. These next seven ideas will give you plenty of fodder for introducing it to them for the first time. Your mini Harrys and Hermoines will love becoming a part of something you love so much, and give you something to bond over till the end of time. In addition to maybe earning you the Mom of the Year award, putting these tips to good use is sure to get them hooked in all the right ways.
1

Read The Books Out Loud To Them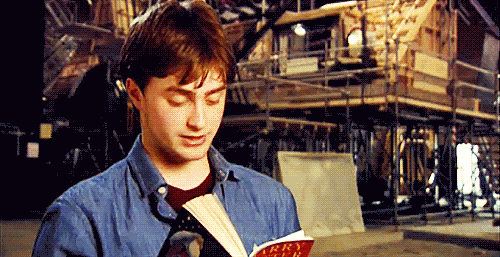 Some of my favorite childhood memories are of my mom reading out loud to my brothers and I. When they see how excited you are about the series, they're bound to get addicted too. And it's actually really, really great for kids to be read to.
2

Buy Them 'Harry Potter'-Themed Clothes
If reading to them doesn't work, try dressing them in some Harry Potter-themed swag. (And, when Halloween comes around, Harry Potter costumes are a great choice.)
3

Take Parenting Tips From The Book
Besides being a gripping story of friendship and growing up, there is some solid parenting advice from Harry Potter. For the enthusiastic fan, challenge yourself to parent like Molly Weasley for a day.
4

Have A Movie Marathon With Them
Kids love watching movies. You love watching Harry Potter. Enough said. Sometimes all it takes to get them hooked is letting them watch the magic unfold right in front of them.
5

Point Out The Values In The Story
It's almost too obvious to say that Harry Potter is bursting at the seams with positive values. Using Harry as an example of selflessness or friendship is an awesome way to teach your kids values using a role model they'll look up to.
6

Do Harry Potter Themed Crafts
There's no better way to get your kids involved than by doing a Harry Potter-themed craft with them. This DIY time-turner necklace from 30-Minute Crafts would be the perfect craft to do with the kiddos that they can wear while channeling their inner Hermoine.
7

Have A Harry Potter Party
Aint no party like a Harry Potter party, am I right? Meatloaf and Melodrama has some great tips for throwing a Harry Potter-themed party, complete with decorations, games, and even some homemade butter beer (non-alcoholic, of course.)
Images: Justin Beckley/Flickr; Giphy (4); Baby Boudoir Clothing; Courtsey of 30-Minute Crafts; Meatloaf and Melodrama