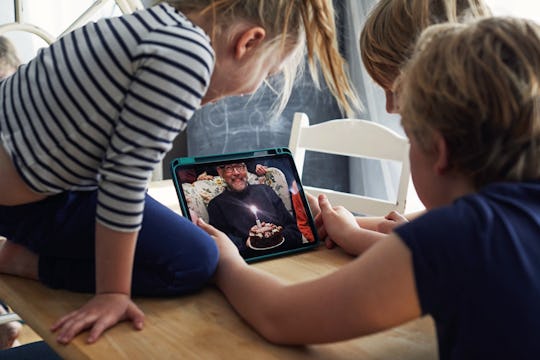 Sally Anscombe/DigitalVision/Getty Images
These 8 Easy-To-Use Apps Can Help Grandparents & Grandkids Stay Connected
My parents live 3,000 miles away in the Pacific Northwest, so I understand the struggle to keep them connected to my 4-year-old. I also know I'm not alone. Luckily, some savvy app developers have come up with creative ways to help, like these 8 apps for grandparents and grandchildren to stay in touch.
It's a good thing, too, since half of all grandparents have at least one grandchild living more than 200 miles away according to the Star Tribune. Now, I know what you might be thinking, "Maintaining these long distance relationships is hard with FaceTime and Zoom. My parents are Luddites. They can hardly use an iPhone let alone download an app." OK, I hear you. Introducing anyone to a new technology can be tough, especially a set-in-their-ways Memaw or Papop. But, hear me when I say that nothing is more motivating than the promise of more time with their favorite grands. Give your folks the benefit of the doubt. With enough practice (and sure, likely some painfully stressful tutorials), even the most stubborn late adapters can become converts to new technology. Not to mention the fact that "teaching Grandpa" a new app can be a super fun self-esteem booster for your child. It may take some convincing, but we think that with enough work, they'll get on board.
We only include products that have been independently selected by Romper's editorial team. However, we may receive a portion of sales if you purchase a product through a link in this article.