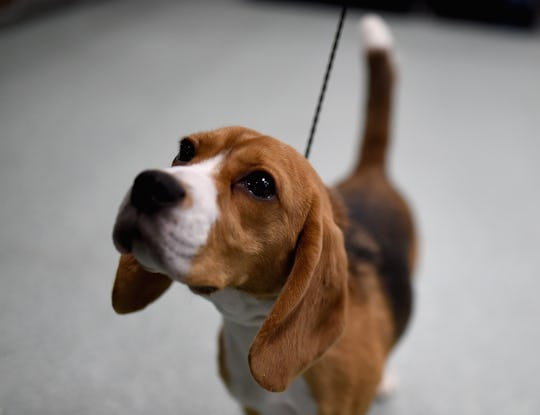 Jamie McCarthy/Getty Images Entertainment/Getty Images
These Dogs Love To Bark, But They'll Love Your Family Even More
There's a lot to keep in mind when choosing a new dog for your family. Is it as active — or as laid-back — as you are? Is it the right size? Will its fur trigger anyone's asthma or allergies? Will it love everyone it meets, or stay loyal to just one person? And is it a dog breed that barks a lot? Depending on what you want in a pup, this last one could be a deal breaker or a deal maker, because barking isn't always a bad thing.
"Dogs bark to communicate with other dogs, with people, with other species (like your neighbor's cat), and sometimes apparently just because they can," explains Jennifer Coates, DVM, one of the vet experts at Chewy. "But certain breeds of dogs have been bred to bark more than others."
Some families are less tolerant of noise than others, so they'll be far happier with a dog who keeps the woofs and yips to a minimum. (Or perhaps they live in an apartment building where neighbors might complain about excessive barking.) Other families, on the other hand, don't mind a more vocal pet. In fact, they prefer a dog who'll sound the alert when visitors come to the door, or whose protective barking will keep strangers from coming too close to their children on the street or at the playground.
Whichever your preference, there are certain breeds that tend to be more barky than others simply because of their nature, and depending on your needs, you'll want to put them either on the short list or the "not for us" list. Keep in mind, however, that each individual animal is different, even within a breed. Plus, any dog is likely to bark or vocalize when it's anxious or distressed. "Dogs left alone for long periods may develop separation anxiety, which leads to barking," explains Carly Fox, DVM, a staff doctor in the Emergency and Critical Care department of the Animal Medical Center in New York. "To avoid excessive barking, you have to keep your dog very well exercised and entertained."
These are the breeds our vet experts singled out as being the most naturally inclined to bark. Keep them in mind when you're looking for a new fur baby for your family.