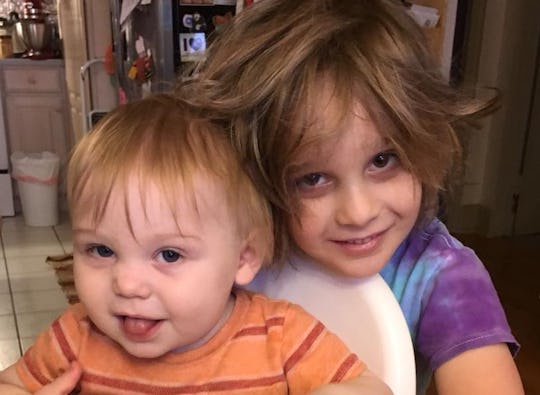 Courtesy of Steph Montgomery
8 Early Signs Your Kid Will *Definitely* Be BFFs With Their Sibling
I have so many memories of growing up with my twin sister. She was my first friend and built-in playmate, which made going to grandma's house or sitting through long car trips much more bearable. We shared books, toys, and experiences, because we were so close in age. So when my partner and I decided to space our kids far apart, I was worried we had hindered the possibility of a future friendship between them. Thankfully, there are clear signs your kid will be BFFs with their sibling, and my kids seem to exhibit them all.
My husband and I have a blended family. We have kids ranging in age from a 10-month-old baby to a headstrong tween, so it's often hard to know if they will be able to find ways to play together, share interests, or avoid fighting like cats and dogs. When our youngest child was born earlier this year, I was worried that his big brother would be angry or jealous that he had been replaced as "the baby." But, honestly, after seeing them grow together, my worries seem silly now. They are totally on their way to becoming BFFs.
Our other kids are forging friendships, too. The oldest two (who are three years apart) put on makeup or sing along to the radio. The middle kids play video games or stretch their collective imaginations by playing pretend on a daily basis. The 5 year-old spends time each afternoon helping me watch the baby, usually more than happy to spend his days chasing him around the living room. Even the oldest plays endless games of peek-a-boo with the baby.
If you are interested in whether or not your kids are destined to be BFFs, or want to learn ways to foster friendship between them, read on for some clear signs and tips: