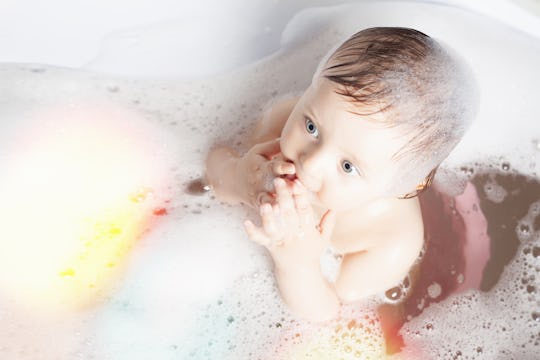 Fotolia
8 Gross Things That Will Inevitably Happen When You Give Your Kid A Bath
If you really stop to think about it, bath time is actually a really gross occasion for an activity whose primary goal is to achieve cleanliness. Part of the reason why is simply the practical realities inherent in the act of taking a bath, but there are certain gross things that happen when you bathe your kid that, well, can make the entire act seem counterintuitive at best, and a complete waste of time, at worst.
It's not really our kids' fault, of course. By its very nature, a bath requires a person to put a dirty body into clean water, and scrub and wash themselves until they become clean and the water becomes dirty. That person becomes dirty again, for the most part, simply from being in the tub with all those dirt particles and dead skin cells and weird mess just hanging in the water and clinging to anything that touches them. I mean, you can actually see it happening. That's why when I want to take a relaxing "me time" bubble bath with a glass of wine, I always shower and exfoliate first. Or I just bring my glass of wine in the shower and just skip the bath entirely. (A Shower Happy Hour is an amazing thing, and if you've never experienced one, you should try it as soon as possible. Don't say I never told you anything useful, folks.)
Sure, maybe I'm kinda, sorta possibly overthinking this bath thing. Still, it is indisputable that when the person in the tub is a child, the "ick" potential of the whole experience goes way up. While I pride myself on remaining cool, calm, and collected in these moments because I don't want to freak my kid out (or worse, encourage grossness on purpose because look at mom's hilarious reaction that's so funny let's do this again), it must be said that bath time can sometimes be, well, challenging.
Lots of signs that my child's all-too-quick childhood is passing by make me sad just to contemplate. I cried when he outgrew his first set of baby clothes (though that was probably mostly hormones). I winced when my week-by-week baby emails began calling my little one a toddler. However, the day my child becomes old enough to reliably clean his own body in a shower, I will rejoice. Sorry not sorry, because as adorable as bath time can be, it can also be really disgusting and we all just need to be honest about things like this: