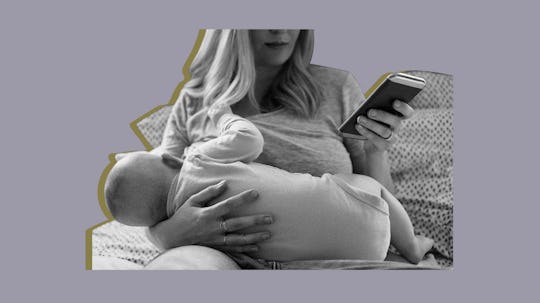 Kelsey Calendas
8 Online Breastfeeding Support Groups You Can Count On Even At 3 A.M.
As any mom will tell you, breastfeeding can be a rather surreal experience. One day your child is safely protected inside of you and the next you're the sole source of nourishment for a tiny helpless human. Especially if this is your first child, you're bound to have a million questions and concerns: Am I doing this right? Is my baby getting enough milk? Why does this hurt so much? But the reality is, you don't have to go it alone. Online breastfeeding support groups are here for you and here's the great news: There are lots to choose from.
Of course, when it comes to medical concerns, nothing beats an in-person appointment with a lactation consultant or doctor (or even a Skype session). But those experts can be pricey and aren't usually available during those 3 a.m. nursing sessions when you're utterly exhausted (but your brain is running a million miles an hour). In these instances especially, finding an online community with firsthand experience can be a lifesaver. Whether you're looking for nursing bra recommendations, a group of people to commiserate with, or you just want to know how other moms have handled nursing hiccups, these forums and websites have all kinds of topics and discussions for people to find assistance and an interested group of peers going through the same thing.