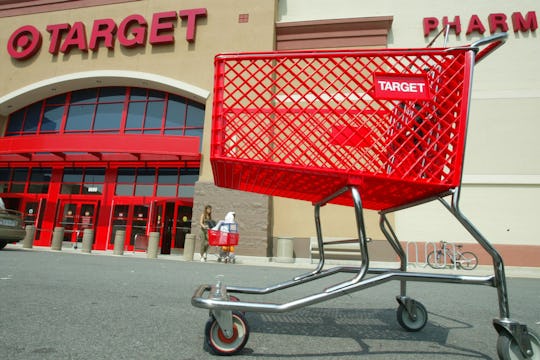 Alex Wong/Getty Images News/Getty Images
The Perks Of Signing Up For Target's Baby Registry Are Seriously Too Good To Miss
The other day my daughter and I walked into Target and she said, "We're at Target, Mommy!" It was the first time she had acknowledged the famous red bullseye, and I was irrationally thrilled, grinning while exclaiming, "Yes, baby it is!" But my water did break while strolling the store's aisles, so can you blame a girl? Plus, the Target initiation starts at conception for many moms, especially when it comes to their killer registry. Want to know more? Here are the perks of signing up for Target's baby registry that you need to know about.
Whether you are registering for a first-time pregnancy and need all of the things or simply stocking up on some essentials for the latest addition to your family, the Target baby registry offers benefits for everyone, including the people buying you gifts. You'll love the cute little welcome kit that you earn just for registering and your friends and family will enjoy perks like order pickup and group gifting options for large items.
No matter how you slice it, we're talking about Target which, no matter how little you go in for, somehow possesses the ability to have you leaving with a receipt the length of your arm. That means you're bound to find everything your bundle of joy needs — and maybe you, too.