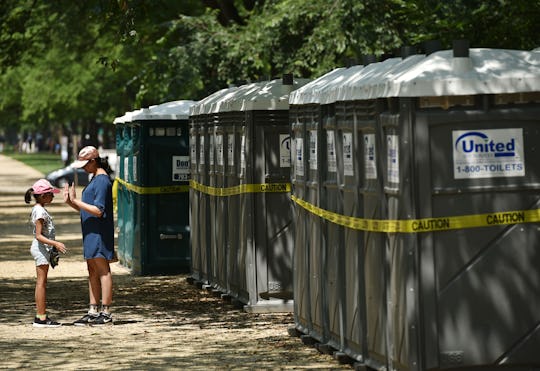 MANDEL NGAN/AFP/Getty Images
8 Portable Bathroom Options For Kids, Including 1 You Can Toss In The Trash
It never, ever fails. No matter how many times you tell your kid to go to the bathroom before leaving the house, the minute you're inconveniently far away from any sort of accessible public restroom... nature calls. Quite possibly the only thing that could ever make any parent miss the time when their child was in diapers, this unpleasant experience is also pretty much unavoidable, but you can prepare for it. These portable bathroom options for kids who have to go on the go could save your day and your car upholstery.
Of course, you could look for a tree in a park or an out-of-the-way alley, but sometimes, there isn't an appropriate shrub available. Plus, it's actually a crime to pee in public in all 50 states, according to CriminalDefenseLawyer.com. While your wee one (ha) might not get charged with disorderly conduct, there's a good chance that you'll get slapped with some sort of ticket. (In 2019, pregnant mom Brooke Johns faced up to 60 days in jail and $1,000 fine for letting her 3 year-old son pee in the parking lot of a gas station, People.com reported.) So that's why you should have a portable potty with you or some other bathroom alternatives so that your kiddo is never caught with their pants down — literally.
We only include products that have been independently selected by Romper's editorial team. However, we may receive a portion of sales if you purchase a product through a link in this article.