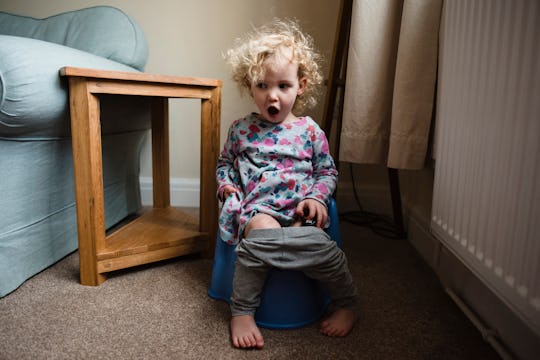 Cavan Images/Cavan/Getty Images
Here's Why Right Now Could Actually Be The Best Time To Potty Train
Most of us are doing our part by staying home right now, which means you've probably been spending a lot (like really just a lot) of time in your house with your kids. If you're looking for something that will benefit you long-term and your kiddo seems just about ready to ditch the diapers, then you may be happy to hear that (according to pediatricians) this could be the best time to potty train.
Some of the most commonly-heard potty training advice involves trying to stay home with your kid for a few days and letting them run around the house without pants on. Chances are, potty-training or not, your child is inside for most of the day during quarantine, and they're probably pants-less (in elastic waist pants on a good day, like the rest of us). So it actually might be the perfect opportunity to give potty training a try.
However, it goes without saying that this is a stressful time for everyone and toilet training is going to be a whole lot easier for everyone if your child is ready for it. Signs that your child is ready or almost ready include, "general interest in the bathroom, asking for a diaper change when wet or dirty, telling you they are going or have gone in their diaper, staying dry for longer periods throughout the day [or] for naps or overnight, hiding to poop, or resisting diaper changes," Allison Jandu, Potty Training Consultant, tells Romper.
If you feel like your child is ready, read on for five reasons why now could be an ideal time for potty training. But, fair warning: It seems like a lot of parents have the same idea, and you may want to move fast, as many of the potty chairs on Target's website and elsewhere are currently marked "high demand," and will be delayed in their shipping.