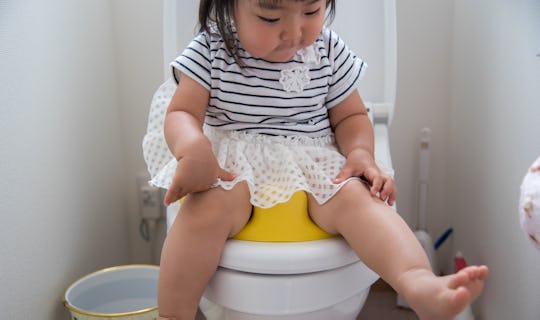 Shutterstock
All Of The Outdated Potty Training Advice You Can Go Ahead & Ignore
No matter how many times you've ridden the rodeo, there's always one part of parenting that paralyzes the majority of mommas — and that's potty training. So when you inform your friends and fam that you're ready to pitch the Pull-Ups and try toilet training, you might get some antiquated advice. Unfortunately, by that point you might be willing to try anything… just so your kid can stop pooping in his pants already. But be warned, there's a lot of outdated potty training advice to ignore out there.
But why is potty training so tough in the first place? Maybe it's the fear that your kid is going to pee all over your couch, on the floor — everywhere. Or it might be that for a while, you're going to constantly be Cloroxing and Febrezing every imaginable surface.
(And the laundry. Oh, the laundry.)
When it comes to potty training, there's no one-size-fits-all remedy. "It's important to understand that certain advice only works for certain children," Alycia Pace, author of How to Potty Train a Dinosaur, tells Romper. "One thing that works for one child might not work for another." So as you ready yourself to get rid of diapers once and for all, avoid all of the outdated advice below.