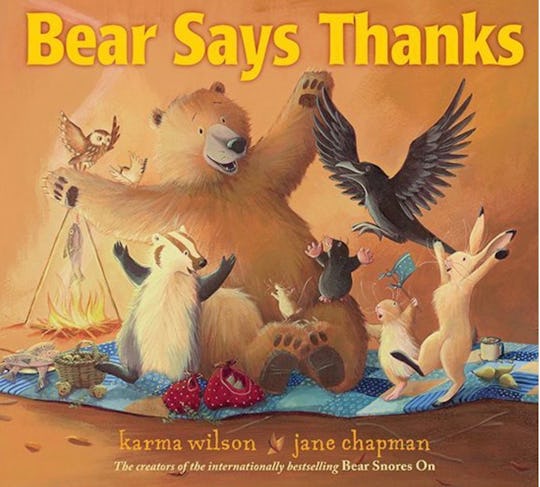 Amazon
8 Thanksgiving Kid Books That Aren't Problematic, Because It's A Tricky Holiday
When explaining Thanksgiving to children, the concept can feel a little abstract. A focus on gratitude and family might not sound that thrilling to kids, and the true history of the holiday isn't exactly kid-friendly (or accurately represented in general). Below, I've rounded up 8 Thanksgiving children's books that aren't problematic, but manage to do a delightful job of capturing the true spirit of the holiday in all its warmth and coziness and kindness.
Little kids easily get Christmas (toystoystoys) and Halloween (M&Ms and costumes) and even 4th of July (hot dogs and sparklers). But Thanksgiving can lack a certain pizazz for kiddos. "You get to sit quietly at a card table and eat green beans while your great aunt whom you see once a year offers you dusty mints that smells like feet. Doesn't that sound fun?"
Thanksgiving can also be tricky for adults. Many of us may be dreading dealing with Uncle Phil's Nancy Pelosi jokes. Or with sister-in-law Kate's passive aggressive comments on our parenting style. Or with having to coax your 3-year-old into sitting politely at a table and not behaving like a feral raccoon in a cardigan.
Which is why I love these books so much. They're simple, gentle reminders for the young and old alike about why Thanksgiving is such a sweet and cozy holiday, and how part of its charm lies in its simplicity. And none of these books have any outdated, offensive imagery or terminology to worry about, as was so often the case with Thanksgiving children's books back in the day.
So maybe bring some of these reads with you, then plop down at the kids' table for a little story time as they dig into their second piece of pie. Or while they're throwing blobs of Cool Whip at the dog. Or screaming because cousin Tyler won't stop singing "Baby Shark." Just grab a moment, and I promise these touching little tales will help calm and soothe the stuffing-stuffed masses.