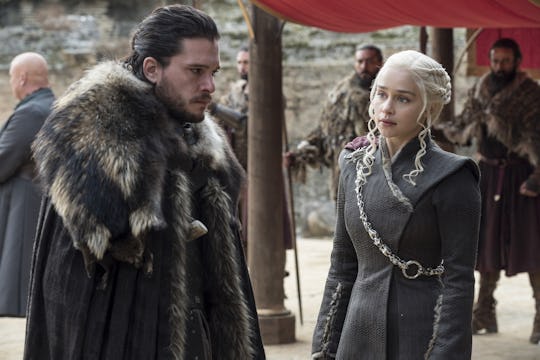 Macall B. Polay/HBO
'Game Of Thrones' Season 8 Theories Based On The Teaser Trailer
In the real world, winter is finally here. In Westeros, winter came more than a year ago, but I think we can all forgive the long wait for Game of Thrones' final season after that doozy of a teaser trailer premiered on Sunday. It may have been less than two minutes of footage to placate most diehard fans, but it was something. There are already some theories based on the Game of Thrones Season 8 teaser trailer and until an actual full-length trailer is released, it's all we have.
Unfortunately, the teaser was just that — a potential hint of things to come. It didn't show any new footage or concrete evidence of any characters surviving or dying before the end credits in the series finale. It did build up more hype, however, and when it comes to Game of Thrones, what is hype may never die.
Teaser trailers for this show have been known to be misleading so any theories borne from the Season 8 teaser trailer could be totally without merit. If you remember, the teaser for Season 6 showed the House of Black and White with faces of characters both dead and alive. Some fans thought it meant that crucial main characters would meet their own grisly fates in Season 6, but when Arya and Cersei came out swinging, it was clear that the teaser didn't really give anything away.
That could be the case with the Game of Thrones Season 8 teaser. With this being the final season, though, all bets are off. Honestly, some of these theories based on the teaser alone seem like they could be at least partially accurate come Season 8.