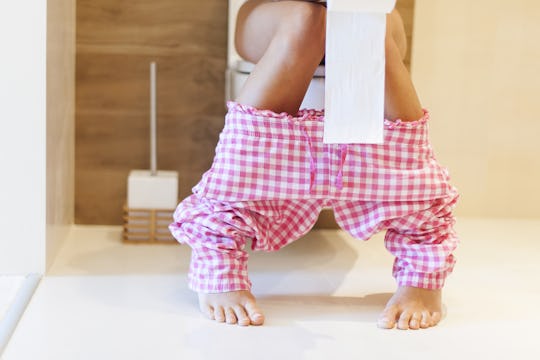 gpointstudio/Shutterstock
8 Things Every Mom Thinks During Her First Postpartum Poop
Before I had kids, I didn't know the first postpartum poop was an ordeal. I mean, I knew you pooped after birth, but I didn't know that it was something to worry about. Why would I? It was never highlighted in movies, and no one warned me when I got pregnant. No one. So I was totally unprepared for the experience, in every way you might imagine. I remember thinking so many things all at once — things every mom thinks during her first postpartum poop — including four letter words that are definitely not safe for work.
When it finally happened I distinctly remember thinking, "OMG, why didn't anyone warn me?" I didn't know it would hurt so damn bad, so I didn't do anything to help things move along. You know, like take laxatives or numbing spray or a club to hit myself over the head with so I wouldn't have to feel any damn thing. I wished I had filled the prescription for all those pain medications my midwife prescribed, because it was almost as bad as vaginal childbirth. Seriously, this is not the kind of thing you let someone do unprepared.
With my other pregnancies, though, the first postpartum poop was different. I knew how bad it was likely to be, so I was able to adequately prepare by doing everything I could to make it a less crappy (pun intended) experience. I honestly can't tell you what's worse, though: not knowing something is going to be horrible and dealing with the surprise, or knowing something's horrible and having to go through it anyway. Either way, the first post-birth poop is the worst, and here are a few things you're likely to think when you experience it yourself.