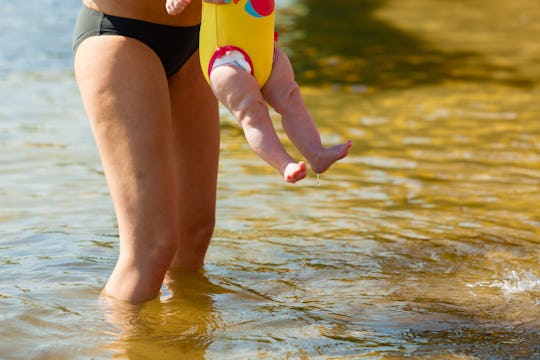 Voyagerix/Fotolia
8 Things People Feel Fine Saying To Postpartum Moms In Bathing Suits
For new moms, a trip to the beach or local water park can be daunting. On one hand, you want to live your best life and scream #AllBodiesAreBeachBodies. On the other hand, society's standard of "beauty" is extremely unkind and, thanks to all the new changes and fun (read: not fun) hormones, a new mom's confidence can be at an all-time low. Then you have to deal with the terrible things people feel fine saying to postpartum moms in bathing suits and, well, what should be a fun family outing can end up being a horrendous blow to an already sleep-deprived, hard-working mother's self-esteem.
I've never been the sort of woman that's super confident at the beach or in a pool. It took me a long time to get to a point where I was at least comfortable in a swimsuit. I grew up in Miami, land of the tiny-waisted, large-breasted model types, and it was hard not to play the comparison game. Still, I didn't let it prevent me from enjoying the warm sun in tiny bits of clothing.
When I had my son, though, it was a bit harder to get into that IDGAF mindset. I even bought a one-piece when I was postpartum, convinced I couldn't show the parts of my body that proved I had done something as incredible as childbirth. Eventually, and thankfully, I stopped caring and lately I've been hitting the pool in my pre-baby bikini with my family. It's awesome, and if someone wants to rain on my parade with any of the following remarks, they can go fly a kite.