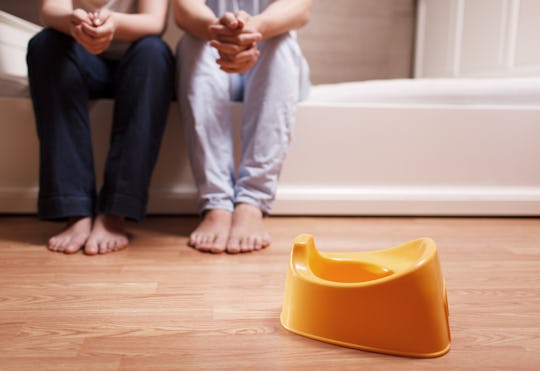 Fotolia
8 Things You Don't Have To Do During Potty Training, Even Though Everyone Says You Do
When my partner and I began tossing around the idea of potty training our son, like many parents, we consulted Dr. Google for information on how to begin the process. We were bombarded by a mountain of information from experts and other parents on "the secrets" to potty training success, and now that my son is almost three and is finally potty trained, I'm going to share a secret of my own: there is no secret, and there are a lot of things you don't have to do during potty training, even though everyone, including the internet, says you do.
There. I said it. The secret is out, you guys.
There is no special formula for potty training your kid. Sure, there are some rules you'll want to follow during potty training, like being consistent and encouraging (duh), but potty training isn't the same for everyone. Each kid and family and situation is unique, and there is no universal path or one-size-fits-all formula that will guarantee your kid will master the potty in a certain amount of time.
Something that is guaranteed when it comes to teaching your kid to pee independently, is that potty training is gross. It's also frustrating and time consuming and, well, it's just the worst. I can't tell you the exact steps you should take for potty training success, because in reality, there aren't any exact steps. What I can tell you is that you shouldn't get down on your parenting skills if you're toddler's toilet time doesn't resemble that of some "mom expert" on the internet, or doesn't look like the potty training fairy tale you had envisioned for yourself and your little. You and your toddler will figure out what works best and on your own timetable, so there's no need to panic or feel like you need to do the following things: