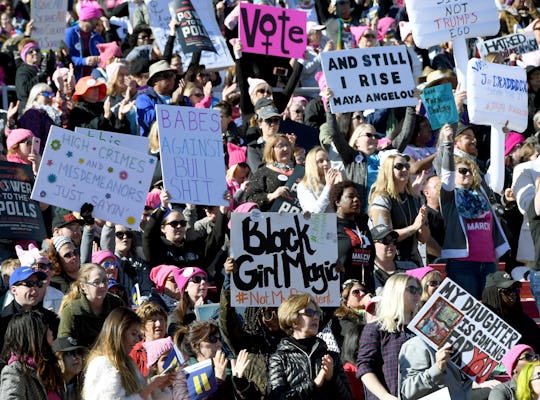 Ethan Miller/Getty Images News/Getty Images
Don't Forget These Crucial Tips For Staying Safe At The 2019 Women's March
The Women's March is an incredible day to band together with fellow women and allies, to flood the streets, and to raise our voices. At the end of the day, you're left feeling empowered, inspired, and full of hope for ourselves and future generations. However, like any big event, there are a few safety precautions to keep in mind if you're planning on attending. Here are eight tips to stay safe at the 2019 Women's March this year, so you can be part of the #WomensWave without incident.
For many, large gatherings of people can be overwhelming. I myself have struggled with anxiety attending things like concerts, rallies, and even movies after horrifying events like the Charlottesville violence and the Las Vegas mass shooting. However, there are a few things to remember. First, these incidents are rare. It doesn't always seem that way thanks to extensive media coverage, but statistics are on your side. Second, avoiding these types of events out of fear means that evil has won. Go out into the world, live your life, and look out for yourself. You'll be OK.
As you start painting your Women's March 2019 signs and rounding up your girl tribe for January 19, keep these safety tips in your back pocket.