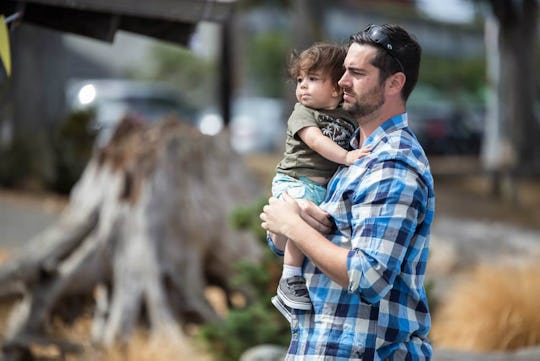 Courtesy of Danielle Campoamor
8 Ways Dads Can (And Should) Help Their Sons Grow Up To Be Feminists
For feminist parents, raising a future feminist is important. We want our children to continue the change that has slowly but surely (and over a very long period of time) transformed a predominantly patriarchal society, and that means raising sons and daughters who believe in gender equality. This parenting goal is (or at least would be in a perfect world) held by both parents, which means that it's not just "the mom's" responsibility to raise a feminist son.
According to a recent poll, only 16% of men identify as a feminist. Oddly enough, 82% of the men surveyed believe that all genders should be treated equally. Obviously, there is a disconnect between what feminism actually means, and what people — mostly men — perceive it to mean. This can change with education, positive male examples, and feminist parents who can teach their children that being a feminist doesn't mean you hate men and want to see them suffer, but rather just means that you value all genders equally, and believe in the social, political, and economical uniformity of all.
Male partners, in particular, have a unique opportunity to teach their sons how to be feminists, by the examples that they set. It won't take much for your son to look at the interactions between you and your partner, or just the words and actions of your partner alone, and realize that being a feminist isn't just the right thing to do, it's the only thing to do.
So, with that in mind, here are eight ways your partner can help your son become a feminist.