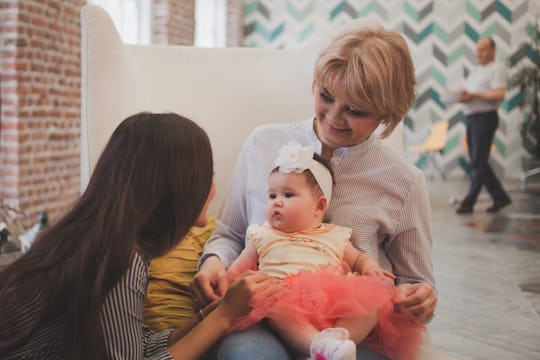 Shutterstock
How To Tell Your Family You Need To Feed The Baby At Holiday Get-Togethers
When you sit down to a nice holiday dinner, having a family member hold your baby can be a refreshing change of pace that actually allows you to eat with both hands. Even if you know how to tell your family you need to feed the baby, you still could be met with resistance from people who feel entitled to continue holding your baby under the guise of "helping" you, even once you finish your plate of turkey. Unfortunately, that type of help only prevents your child from getting fed if you're breastfeeding or if you simply want to give your own baby a bottle.
Grandma Ida may mean well, but this situation can be stressful for moms. Having a few statements tucked away in the back of your mind for when it's time to feed your baby can help ease the tension.
While I sincerely hope that your family is understanding of your baby's need to eat and your right to do so in the way that you please, sometimes they just won't be able to help themselves (or so it would appear). "Advocating your baby's needs seems like a lot to navigate, particularly if your relatives use emotional manipulation communication techniques," Danielle Downs Spradlin, IBCLC, CLC with Oasis Lactation Services tells Romper. "You can set boundaries," she adds, emphasizing that clear communication is key. The following tips for how to tell your family you need to feed the baby might come in handy around the dinner table this holiday season.