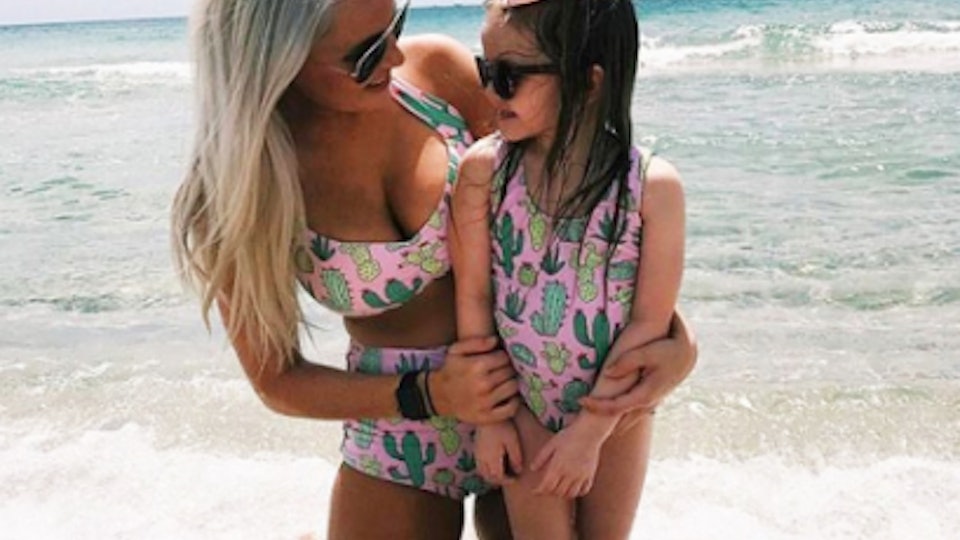 Courtesy of Popreal
9 Adorable Mommy & Me Swimsuits That Twin For The Win
Shopping for swimsuits for little kids is a blast, because they're generally all pretty adorable. Shopping for a swimsuit for yourself, on the other hand, can be distinctly less delightful, because... ugh. But here's one way to make the whole process a bit more fun: Coordinate your look with your little one! Mommy & me swimsuits are seriously in vogue this summer, with options available in all kinds of styles, colors, and price ranges. So how can you find the right set for you and your mini-me?
I'll tell you a little secret: When you're doing the twinning thing with your tot, you can totally get away with wearing more whimsical prints and accents than you might ordinarily try to wear on the beach. Sure, you might not choose a ruffled two-piece with fruit on it if you were just going solo, but with your similarly outfitted child by your side, it makes perfect sense. Plus, there are only so many opportunities in life when your kid will let you wear the same clothes she's wearing... as in, this might actually be your only opportunity. (Or maybe not the only one, but let's just say your teenager isn't likely to be as open to the idea of matching bathing suits as your preschooler.)
Of course, most of these Mommy & Me looks aren't exactly the same, either: Concessions are made to accommodate adult bodies (i.e. more supportive tops, etc.) Just be sure to get lots of pics of the two of you before the summer is over, because you'll want to remember these moments forever.
1

Think Pink
Summer Salt X Mac & Mia The Confetti Sidestroke One-Piece, $95, Summer Salt
Summer Salt X Mac & Mia The Girls' Confetti Sidestroke Bikini Set, $55, Summer Salt
Adorably festive, this pair of swimsuits from Summer Salt's Mamas + Minis limited edition collaboration with Mac & Mia are sort of what cupcakes would look like in bathing suit form, except even better than that. The Mommy-sized version is a bestselling style known staying put in the places where it matters most even when you're chasing after your little swimmer (sizes 12 months to 6T).
2

Desert Flowers
3

Mama's Girl
4

Vacay Vibes
5

All In The Family
6

Camera Ready
7

Watermelon Waves
8

High Contrast
9

Glamour Girls
Palisades Piping Maillot, $352, Marysia
Bumby Palisades Piping Maillot, $129, Marysia
With a silhouette reminiscent of the golden age of Hollywood screen sirens, these suits would be perfectly accessorized with matching pairs of cat eye sunglasses.