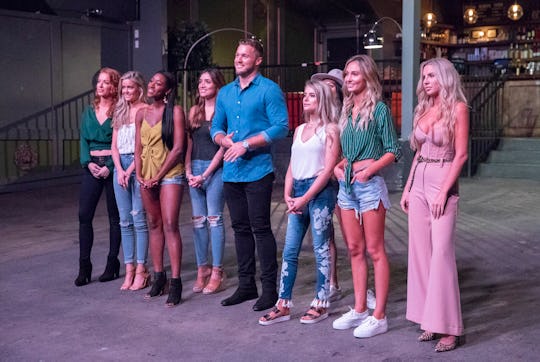 Rick Rowell/ABC
Twitter Jokes About 'The Bachelor' That Prove It's Been A Wild Season So Far
The only thing better than watching The Bachelor every week to root for your favorite contestant and side-eye the rest, is doing it with the rest of Bachelor Nation on Twitter. If there is a particularly interesting date or ketchup on Colton's shirt, someone on Twitter will be talking about it. And all of these Bachelor Twitter jokes perfectly sum up the season so far.
I honestly don't know what I would do if I didn't have other Bachelor fans talking about Demi running things or Chris Harrison calling Hannah B. "Caelynn" accidentally-on-purpose. Like any other social media platform, Twitter can help bring people together. When it comes to The Bachelor, there's never a shortage of Bachelor memes. Right now, there are enough to help you either catch up on the season or remind you of every magical moment we've had so far.
Colton's season of The Bachelor is roughly halfway over, which means that international travel is underway and the contestants are slowly dwindling down. It's getting down to the nitty gritty and Colton has been working to ensure that the women here "for the right reasons" get to stay, while the "cancers" of the cast get the boot. Colton, the sweet summer child that he is, might still have a few chaotic contestants in the mix, but for now, it will help keep things interesting.