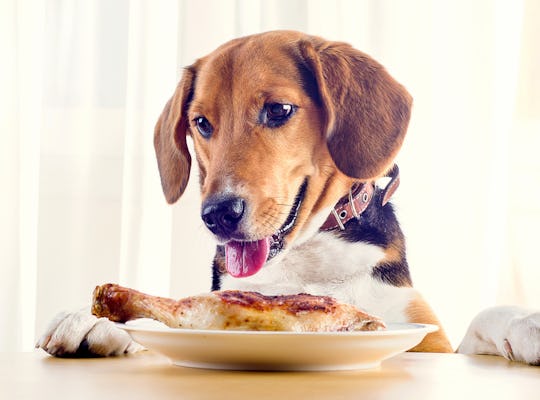 bitt24/Shutterstock
Seriously, Don't Let Your Dog Have Any Of These Classic Thanksgiving Dishes
Thanksgiving: that blissful holiday that requires no cards, gifts or elaborate lawn displays. All it asks of us is to eat heartily, have a grateful heart, and take it easy for the rest of the weekend (unless you're a Black Friday shopper). If you're a dog owner, you can expect to see your fur baby hovering near the dining-room table, hoping for a share of your bounty. But think twice about offering food scraps: Vets warn that certain Thanksgiving foods are dangerous for dogs. In some cases, even a nibble can turn your joyful dinner into a trip to the animal hospital.
"It is true that the day after Thanksgiving is the most hated day for us as veterinarians to work," says Wendy Mandese, DVM, Clinical Assistant Professor at the University of Florida College of Veterinary Medicine.
"But it's actually not usually because of the toxic nature of the foods fed at Thanksgiving," she tells Romper. The problem, she explains, is that "dogs often are offered (or steal!) food that they don't normally receive. This is called 'dietary indiscretion' and often results in GI signs such as vomiting and diarrhea."
Or worse. Fatty meats can also cause pancreatitis, Mandese adds, "which can be serious and result in hospitalization." And think twice before you hand over a turkey leg: Dogs should never be given animal bones to chew, because of potential serious complications such as intestinal perforations or obstructions that could require surgery (or even fractured teeth).
"Overindulging in the family feast can be unhealthy for humans, but even worse for pets, so keep the feast on the table, not under it," advises Daniel Edge, DVM, MBA, the Director of Veterinary Specialty Operations for animal health company Zoetis.
Dr. Edge and other experts offer some helpful advice on which Thanksgiving treats to keep out of the reach of dogs. While these are the ones most likely to cause trouble, there are other people foods that can wreak havoc with a pet's digestive system. "If you're ever in doubt, share a dog biscuit instead," advises Dr. Edge. And if you suspect your pet has eaten any of these foods, even if you don't notice any symptoms, call your vet or animal clinic ASAP.
This article was originally published on