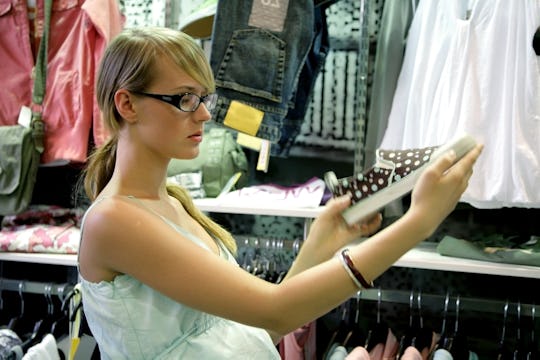 Shutterstock
These 9 Items Of Maternity Clothing Are All You Absolutely *Need* To Have
Hear ye! Hear ye! I do hereby declare for all mothers-to-be in the land: Ye does not need to buy an entirely new wardrobe of maternity clothes. Ye shall still be able to wear much of ye's wardrobe throughout most of ye's pregnancy. Okay, all joking (and Renaissance speaking) aside, shopping for maternity clothing can be a daunting, exhausting, and expensive part of pregnancy. But it doesn't have to be. As most mothers will tell you, there are a few items of maternity clothing that won't feel like a waste of money, but aside from these, whether you do a complete overhaul of your closet is really up to you (and your budget).
I always loved the idea of shopping for maternity clothing: getting pampered by the doting maternity store employees, finding the perfect dress that hugged my bump just-so, and, of course, slipping into jeans that didn't need to be buttoned. However for many people, myself included, the first shopping trip for maternity clothes is actually a very draining experience: one in which you may end up leaving frustrated and empty-handed, or frustrated and with too many things in your hand because the salespeople said you "needed" it all.
For starters, maternity clothing is overpriced. It's also challenging to find the right size, even with those weird bump pads they give you. And, though there are more brands creating really cute maternity clothes, historically, pregnancy clothing is not going to land you on any "best dressed" lists. What then, you're probably asking yourself, are pieces that are worth the investment? Look no further fair maidens (sorry, Renaissance talk is hard to kick) for we have compiled a list of nine clothing items you need during pregnancy (and beyond) that won't feel like a waste of money.