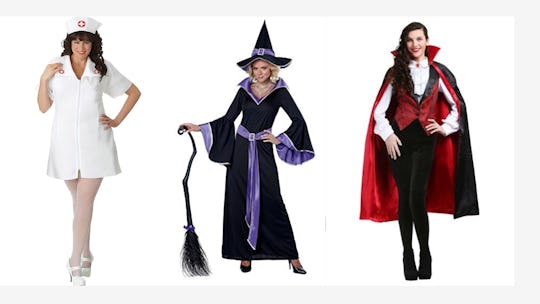 Party City, Amazon, HalloweenCostumes.com
You Can't Go Wrong With The Most Popular Halloween Costumes Of All Time
One of the best things about Halloween (besides the candy, which is the actual best) is the creativity that's on display. I love seeing the amazing variety of costumes that kids of all ages show off. Every year it seems there's a couple of costumes that are directly inspired by current popular culture. But there are even more costumes that are totally timeless — you'll see tons of them every year, because they're just quintessentially Halloween. If you keep an eye out, I'm willing to bet you'll see all of the most popular Halloween costumes of all time when you're out trick-or-treating this year.
The most popular costume of each year obviously changes every year — you can find out which one was most popular the year you were born on Cosmopolitan. While there's not a single repeat among them, you'll see the same costumes again and again when you look at larger periods of time. NPR put together a five year look at the most popular Halloween costumes from 2009 - 2013 using National Retail Federation data, and classic costumes dominated. So what makes these costumes so popular? If I had to guess, I'd say that they're all instantly recognizable (no awkwardly explaining who you dressed as), easy to achieve (no pricey accessories needed to complete your costume) and largely unisex.
These nine costume ideas are sure to be a hit every Halloween, no matter how many times they end up being re-worn.