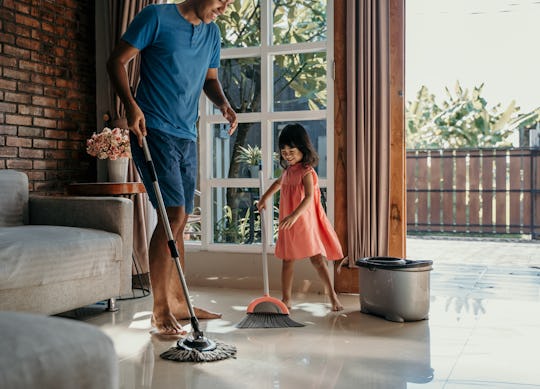 Shutterstock
These 9 Old-Fashioned Parenting Tips Might Actually Be Worth Revisiting
Parenting styles have changed pretty drastically since the days when car seats weren't a requirement and screen time wasn't a concern. And while there's no question that kids are better off now in some ways than they were (see the car seat mention above), there are some old-fashioned parenting tips we should totally bring back.
Of course, that doesn't mean that you have to erase your current rules in favor of time-honored tips. It simply means implementing and adapting some classic strategies to make them work for your crew, and not, say, a family from the era when June Cleaver was considered the best mom ever. To be fair, the old-school ways might take some getting used to, especially if you're not comfortable with the more authoritative approach. "Some ideas might make a 21st century parent cringe, like saying 'No means no" or 'Because I'm the parent, that's why,'" Stephanie M. Kriesberg, Psy.D., a licensed clinical psychologist, tells Romper. "But the ideas behind them are critical for raising independent, resilient, and caring adults."
Here are 9 old-fashioned parenting tips that just might inspire you to try something old and make it new again.