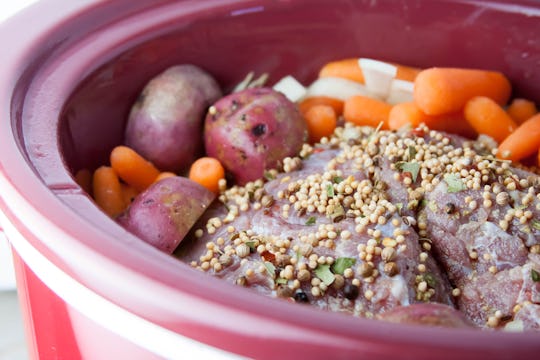 msaandy003/Shutterstock
Save Time With These 9 Slow Cooker Recipes Perfect for St. Patrick's Day
Heavy on potatoes and Guinness beer, an Irish diet is definitely a tasty one filled with hearty dishes that are good for the body and for the soul. St. Patrick's Day may not seem like the most notoriously food-forward holiday, but with all of the drinking happening on the 17th day of March, it's not a bad idea to prepare a filling slow cooker meal that can be consumed with (or without) your green beer. Celebrate with these nine slow cooker meals to make on St. Patrick's Day and enjoy the entire day without being tied up in the kitchen.
Whether you prefer to make a vegetarian meal, or love a good, slow-cooked beef stew, this list has it all. Choose from traditional Irish staples like corned beef and shepherd's pie, or celebrate with slow cooker green soups that will really get you in a shamrock state of mind.
My red hair and love of dark beer really shine through when it comes to making sure every St. Patrick's Day is celebrated to the fullest. I know I can't wait to try out a few of these scrumptious dishes to keep my entire family full and happy while we celebrate our Irish heritage.