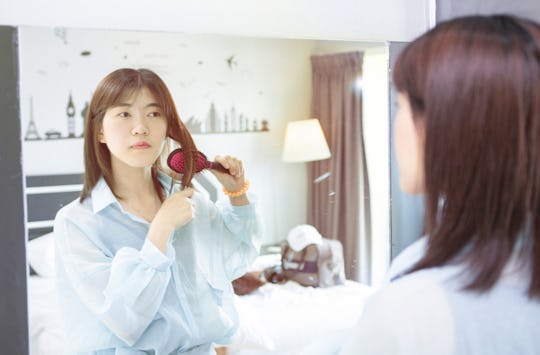 Nattaro Ohe/Shutterstock
9 Subtle Changes To Your Hair That Can Signal A Serious Health Concern
Most of the time, we don't think about our hair unless it's in need of a wash, a color change, a cut, or a ponytail (when we're rushing out the door and just can't deal with the bedhead). But if our locks could talk, they might have something important to say. Subtle changes in our hair can signal health problems that we might be overlooking. Paying attention to these changes can make a big difference, and not just in the way your hair looks.
Some apparently alarming hair changes are perfectly normal. For instance, we lose about 100 of the 150,000 hairs on our head every day as old hair cells are forced out by new ones, explained WebMD. Going gray is inevitable for many of us, and it can either be genetic or a result of cumulative damage in the cells that produce hair coloring. Plus our hair undergoes changes in texture and thickness at certain points in our life; the hormonal crazies of adolescence can turn straight hair frizzy, and during pregnancy, your hair may grow in thicker and more lustrous (one of the symptoms that we don't mind having!).
But when the feel and look of your hair changes unexpectedly, even in small ways, it can be your body's way of saying there's an underlying condition that shouldn't be ignored. If you notice any of the symptoms below, talk to your doctor about what your hair could be trying to tell you.