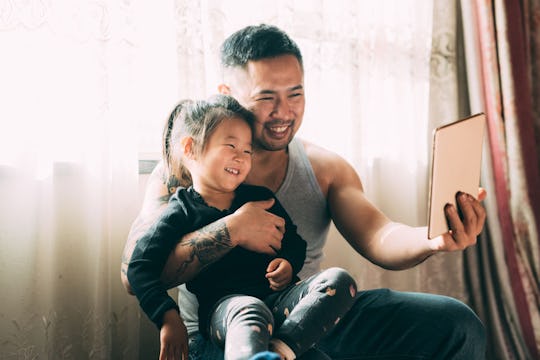 MaaHoo Studio/Stocksy
Here's What To Say To Dad On Father's Day To Show How Much He's Loved
If you haven't already snagged the perfect Father's Day present, well, your time is almost up. Good thing it's never too late to put together a heart-warming speech or touching card that's just as good as a gift. The only catch there is that you need to be able to find just the right words to tell dad exactly what he means to you, and that isn't always easy. Touch on some of these nine things to say to dad on Father's Day morning, though, and you'll definitely get your point across.
Father's Day doesn't get quite as much buzz as Mother's Day (or so it seems to me. But if you're lucky enough to have a wonderful dad in your life, the pressure is on whenever the third Sunday in June rolls around: Whether you're sending a card or placing a phone call to a dad who lives in another time zone, or plan on delivering your message in person along with a hug, speaking from the heart is all you really need to do. Letting your dad know how he's shaped your past, present, and future will put a smile on his face and maybe even bring a tear to his eye.
Here are nine sweet sentiments to share with your dad that'll be the highlight of his day.