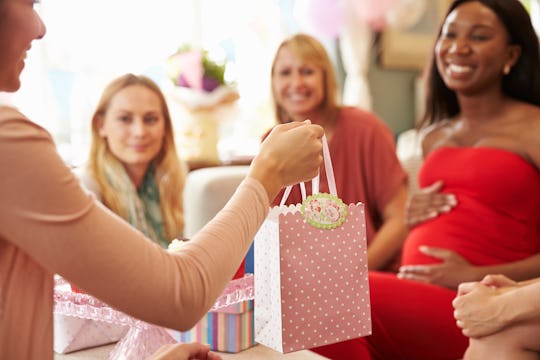 Fotolia
9 Things No One Actually Wants To Do At A Baby Shower (So Please Stop)
I'll be the first to admit, I am a pretty big fan of baby showers. I mean, no, there are certain aspects of the entire celebration that I wouldn't consider my favorite way to pass the time, but I love celebrating a dear friend or family member and their choice to become a mother. I like watching them get all the attention; I like watching them open up presents; I like watching them be blissfully happy, if only for an afternoon. Still, there are things no one actually wants to do at a baby shower, regardless of how much they like attending them. While I think it's important that we support pregnant women regardless, the time has come for us to talk about some of these ridiculous baby shower pastimes.
I had a fantastic time at my baby shower, but I think it's because (for the most part) mine wasn't traditional. I served alcohol, because I didn't want my party guests to go without just because I couldn't indulge. There were no baby pictures of myself or my partner paraded around for all to see. We spent the first half (if not more) watching the World Cup, because it's the World Cup and you don't miss out on games you can only see every four years. I offered a few food items that I couldn't eat myself, we kept the games to a minimum and men were present because, well, this is 2016. I was surrounded by my fantastic friends and we laughed and joked about how drastically our lives had changed since college and it was an easy-going, low-key afternoon.
Of course, my idea of a baby shower isn't the end-all-be-all, and whatever that soon-to-be mom wants is (in my humble opinion) exactly what that soon-to-be mom should get. After all, she is growing a freakin' human being inside of her own body. That is definitely worthy of a party. So even if you, like me, don't like the following things, please do be an adult and just suck it up. In the end, this day isn't about you or me or anyone other than the pregnant mom and her future baby (or babies). Still, mothers planning baby showers at the moment, we sure would be grateful if these nine things kind of, you know, just went away.