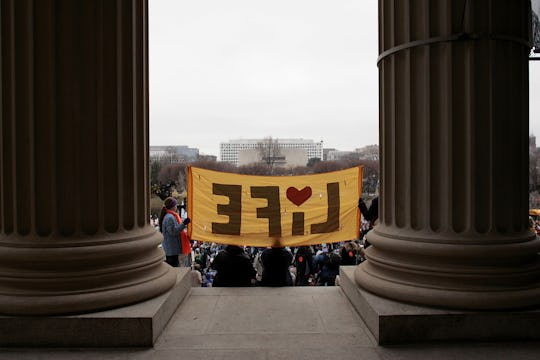 Chip Somodevilla/Getty Images News/Getty Images
9 Ways Pro-Lifers Actually *Can* Help Children
As a pro-choice advocate and a woman who's had an abortion, I'm no stranger to the persistence of the pro-life movement (also known as the anti-choice movement). Pro-life advocates — from friends to family members to strangers on the internet — haven't shied away from telling me abortion should be outlawed because of "babies and children and the sanctity of life." I've endured the repercussions of attaching morality to a legal medical procedure I had (and continue to have) the right and choice to make for myself and my body. Though I am outspoken when it comes to how I feel about the pro-life movement and the things they get wrong, I also know there are things pro-life advocates can actually do to fight for the lives of children; tangible things that will actually protect "babies and children and the sanctity of life."
According to The Guttmacher Institute, 396 anti-abortion laws were considered in 2015. That's 57 anti-abortion laws enacted in 17 states. On Jan. 12, 2017, Iowa's Republican Representative Steve King introduced a bill in Congress known as the "heartbeat bill" that would constitute a total abortion ban on a federal level. During his introduction of bill H.R. 490 — which would ban abortions country-wide as soon as a fetal heart was detected — King evoked an age-old pro-life talking point: the lives of children "lost." King claimed that nearly "60 million innocent babies' lives have been ended by the abortion industry," since Roe v. Wade was passed in 1973. Of course, King is talking about the number of abortions that have reportedly been administered since the historic ruling. What King fails to mention, however, is that 88 percent of all abortions occur in the first trimester. Children are not dying; an unwanted pregnancy is being terminated; very, very few children are being "ripped" and "cut" from the womb.
Still, pro-life advocates like King know whittling a woman's right to choose as "right versus wrong," and evoking the lives "lost" because of those choices, are powerful tools when trying to legislate women's bodies and stifle essential reproductive healthcare. Instead of pointing out the facts regarding abortion — like 61 percent of women who obtain abortions are already mothers with one or more children, or that 7 out of 10 Americans believe abortion should remain safe and legal, or that more than 1 out of every 3 women in the United States have had an abortion by the time they turn 45 years old, or that 13 percent of women who have abortions say they're Born Again or Evangelical Christians — pro-choice advocates and women who have had abortions are tasked with defending a decision that's legal and protected in the eyes of the law.
By conjuring words like "decency," "principle," and "ideals" when describing (or attacking) reproductive healthcare, anti-choice advocates perpetuate the stigma of abortion while simultaneously proclaiming themselves to be the protectors of life. However, as the country gears up for the impending repeal of the Affordable Care Act (also known as Obamacare), a legislative move that would strip an estimated 13 million children of essential healthcare coverage, I think it's time our culture questions the pro-life movement's mission. When more and more Targeted Regulation Of Abortion Providers (TRAP) laws are enacted, making it more expensive to have an abortion by mandating waiting periods, counseling sessions, and unnecessary travel, it's time our culture questions the pro-life moment's position. When an estimated 5,000 American women died every year as a direct result of unsafe abortions before Roe v. Wade was law, it's time our culture questions the pro-life movement's goals, as well as term "pro-life" itself.
Because if you really care about babies and children and the "sanctity of life," here are ways you can actually help that have nothing to do with policing women's bodies and their access and right to safe, effective, and personal reproductive healthcare: