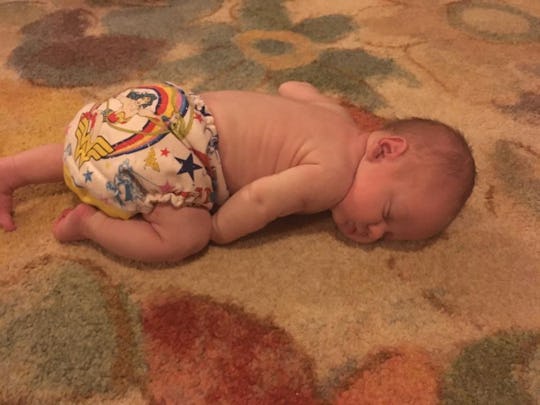 Courtesy of Steph Montgomery
9 Things Your Baby Is Definitely Thinking When You Put Them In A Cloth Diaper
I love cloth diapers. Pretty much everything about them, including buying them, putting them on my cute little baby's bottom, taking pictures to post on social media, and even washing them (it's like a daily science project). My baby seems to like them, too. I mean, he always smiles up at me when I am changing him. And if you're like me, you might wonder what your baby is thinking when you fit them with a cloth diaper, and while I have no actual evidence to the following I am fairly certain cloth diaper babies do, in fact, have some thoughts on the issue.
I am now cloth diapering my third baby, so I can absolutely tell you it can be so addictive. I have tried a variety of styles, fabrics, and sizes over the years, and companies are constantly coming out with new options. You can probably find a diaper or cover in just about every color or print imaginable, from space cats to camo to everything in between. You can buy diapers and covers specially sized for babies from preemie to preschool, and one-size diapers that claim to fit babies from birth to potty training. I discovered, however, that one-size-fits-all diapers were no match for my son's luscious, chubby thighs.
I spent a lot of time and energy researching things like absorbency, style, fabrics, softness, durability, and ease in washing, and I would like to think that my baby appreciates my hard work. Does he even care? Does he have preferences? Maybe he prefers the softness of bamboo terry or the absorbency of hemp, the moisture-wicking quality of microsuede and fleece or the durability of cotton. For all I know, he doesn't care what he craps in. So until scientists develop a baby translation app, I'll have to use my best guess on the things my baby is thinking when I put an adorable cloth diaper on his itty bitty bum.